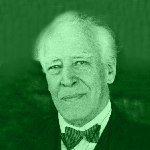 17 January 1863 - 7 August 1938
Constantin Sergeyevich Stanislavski was born on 17th January 1863 into one of the richest families in Russia, the Alekseyevs. Stanislavski was a stage name he adopted in 1884 in order to protect the family name, due to acting being a taboo for someone of his social class.
As a child, his interests included the circus, ballet, and puppetry, but it was not until the family built a theatre on their estate that young Constantin had the opportunity to perform on a stage for the first time. After his debut performance, he began what would go on to become a lifelong series of notebooks that critiqued his acting, and which would eventually lead to his analytical system of training for which he would later become famous.
In 1898 Stanislavski founded the Moscow Art Theatre in co-operation with the playwright and theatre director, Vladimir Nemirovich- Danchenko. It was there that he developed his revolutionary and unique system of training actors which involved breaking down the text to the point that the characters motivations were revealed and absorbed by the performer. This technique enabled the actor to produce a more genuine performance of a particular role.
The first production to receive this treatment was the 17th century melodrama 'Tsar Fyodor'. He went on to successfully apply these techniques to the imagery rich works of Chekov and Gorki. Always keen not to separate the theatre from social context he continued to produce works through the Russian Revolution in 1905 and the Revolution of 1917. In fact, Lenin's personal protection saved Stanislavski from being eliminated along with the Czardom.
In 1918 Stanislavski founded a school for young actors named the First Studio. He continued to write educational works on the methods of drama, the most successful of which being My Life in Art (1925), a work which went on to inspire modern acting legends such as Laurence Olivier and John Gielgud.
Stanislavski died on 7th August 1938.
Books of Constantin Stanislavski