I know what the caged bird feels, alas!
When the sun is bright on the upland slopes;
When the wind stirs soft through the springing grass,
And the river flows like a stream of glass;
When the first bird sings and the first bud opes,
And the faint perfume from its chalice steals—
I know what the caged bird feels!
I know why the caged bird beats his wing
Till its blood is red on the cruel bars;
For he must fly back to his perch and cling
When he fain would be on the bough a-swing;
And a pain still throbs in the old, old scars
And they pulse again with a keener sting—
I know why he beats his wing!
I know why the caged bird sings, ah me,
When his wing is bruised and his bosom sore,—
When he beats his bars and he would be free;
It is not a carol of joy or glee,
But a prayer that he sends from his heart's deep core,
But a plea, that upward to Heaven he flings—
I know why the caged bird sings!
---
I Know Why the Caged Bird Sings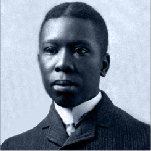 Paul Laurence Dunbar was born in Dayton, Ohio in 1872. His parents had both escaped from slavery in Kentucky, and his father was a veteran of the American Civil War. When Dunbar began to attend Dayton's Central High School, he was the sole African-American student, but despite bullying and abuse became both the editor of the school newspaper and class president, as well as the president of the school literary society.
Dunbar's first professionally published poems were 'Our Martyred Soldiers' and 'On The River', which appeared in Dayton's The Herald newspaper in 1888. Two years later, Dunbar wrote and edited Dayton's first weekly African-American newspaper, The Tattler. The publication lasted only six weeks but provided Dunbar with valuable experience.
When his formal schooling ended in 1891, Dunbar took a job as an elevator operator. In 1893, he published his first collection of poetry, Oak and Ivy, subsidising the printing costs himself. The collection was popular, but Dunbar continued to struggle financially. It wasn't until 1896, when William Dean Howells published a favourable review of Dunbar's second book, Majors and Minors, that Dunbar's writing gained national attention. With his newfound literary fame, Dunbar collected his first two books into one volume, Lyrics of Lowly Life, which included an introduction by Howells.
Dunbar was the first African-American poet to earn nationwide distinction and acceptance, coining the now well-known phrase 'I know why the caged bird sings' in his most famous poem Sympathy, written in 1899. The haunting and thought-provoking poem speaks about brutal slavery, racial segregation, and social discrimination present within American society against the African-American community. Dunbar highlights the importance of freedom, using the metaphor of a caged bird to highlight the importance of freedom.
Although his frequent use of African-American dialects polarised opinion somewhat – some saw it as fostering stereotypes of black people as comical or unintelligent, others as a reclaiming of linguistic identity – he quickly became an associate of Frederick Douglass, Booker T. Washington and Brand Whitlock. Dunbar's writing even became so popular that he was honoured with a ceremonial sword by President Theodore Roosevelt.
Over the course of his career, Dunbar penned a dozen books of poetry, four books of short stories, five novels, and a play. He also wrote lyrics for In Dahomey – the first musical written and performed entirely by African-Americans to appear on Broadway in 1903. His essays and poems were published widely in the leading journals of the day. Dunbar died from tuberculosis in 1906, aged just thirty-three.
---