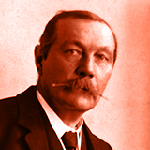 22 May 1859 – 7 July 1930

Arthur Conan Doyle was born in Edinburgh, Scotland, in 1859. It was between 1876 and 1881, while studying medicine at the University of Edinburgh, that he began writing short stories, and his first piece was published in Chambers's Edinburgh Journal before he was 20. In 1882, Conan Doyle opened an independent medical practice in Southsea, near Portsmouth. It was here, while waiting for patients, that he turned to writing fiction again, composing his first novel, The Narrative of John Smith.
In 1887, Conan Doyle's first significant work, A Study in Scarlet, appeared in Beeton's Christmas Annual. It featured the first appearance of detective Sherlock Holmes, the protagonist who was to eventually make Conan Doyle's reputation. A prolific writer, Conan Doyle continued to produce a range of fictional works over the following years. In 1893, feeling that the character of Sherlock Holmes was distracting him from his historical novels, he had Holmes apparently plunge to his death in the short story 'The Final Problem'. However, eight years later, following a public outcry from his readers, Conan Doyle 'resurrected' the detective in what is now widely regarded as his magnum opus, The Hound of the Baskervilles.
Sherlock Holmes went on to feature in fifty-six short stories and four novels, cementing Conan Doyle's reputation as probably the most famous crime writer of all time. Aside from his fiction, Conan Doyle was also a passionate political campaigner – a pamphlet he published in 1902, defending the United Kingdom's much-criticised role in the Boer War, is seen as a major contributor to his receiving of a knighthood in that same year.
In his later years, following the death of his son in World War I, Conan Doyle became deeply interested in spiritualism and psychic phenomena, producing several works on the subjects and engaging in a very public friendship and falling out with the American magician Harry Houdini. He died of a heart attack while living in East Sussex in 1930, aged 71.
Books of Arthur Conan Doyle