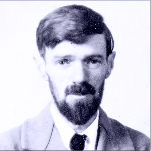 11 September 1885 – 2 March 1930
David Herbert Lawrence was born on 11 September 1885 at Eastwood, a small mining town in the North of England. He was a prolific novelist and poet, responsible for some of the finest modernist works of the twentieth century. Taken as a whole, Lawrence's oeuvre reflects the unsettling effects of industrialisation and renewal, but all within the remit of individual concerns; the emotions, extemporaneity and character. Lawrence's style, both as a novelist, but also as a literary critic, earned him many enemies and he suffered both in terms of personal reputation and professional status, especially during the latter half of his life.
He was the fourth child of Arthur Lawrence, a working-class miner from Nottinghamshire. David Lawrence was an intellectually gifted child and attended the local Beauvale Board School, winning a scholarship to Nottingham High School in 1898. He left education in 1901 to become a Junior Clerk at a surgical appliances factory, but after contracting pneumonia and reputedly being accosted by a group of factory girls, Lawrence took time off to convalesce. During this period, he worked on his first short stories and the draft of a novel which was eventually to become The White Peacock.
In 1908 Lawrence moved to London, where his poetry was noticed by Ford Madox Ford, the editor of The English Review, as well as the influential publisher William Heinemann. This support enabled Lawrence to publish The White Peacock (1910), his first major novel, followed by The Trespasser (1911); a novel based on the intimate diaries of a friend experiencing an unhappy love affair. It was at this time that he met Frieda Richthofen, a married woman with three young children. Richthofen and Lawrence embarked on a life-long romance and eloped to her parents' home in Metz, Germany. The couple toured across Germany, over the Alps and into Italy – a journey during which Lawrence wrote Sons and Lovers (1913), an intense portrayal of the grim actuality of working-class provincial life. This was the start of Lawrence's controversial private sexual life; Frieda later accused him of a homosexual relationship with a Cornish farmer, William Henry Hocking. This was a shocking accusation for a man living in early twentieth century Britain, and caused a great deal of scandal. The accusation was not aided by the added suspicion of spying and signalling to German submarines off the coast of Cornwall.
Lawrence's next novel, The Rainbow (1915) was suppressed after an investigation into its alleged obscenity; a bleak vision of humanity, it depicted the reflections of four major characters on friendship, sexuality, art and politics. Unfit for war-time Britain, it remained unpublished until 1920. After constant harassment by the authorities, Lawrence was forced to leave Cornwall in 1917, given three days notice under the Defence of the Realm Act. He moved to Derbyshire, but soon escaped Britain to travel the world; Australia, America, Sri Lanka, Mexico, Italy and France.
Lawrence spent the remainder of his life peripatetic and only returned to Britain for two short visits. He continued writing during this period, producing some of his finest works; The Lost Girl and Mr Noon as well as several travelogues. It was in Italy that Lawrence wrote Lady Chatterley's Lover (1928). Published in Florence and Paris, it cemented Lawrence's scandalous reputation. Although the author responded robustly and penned many short tracts and satirical poems against those 'shocked sensibilities', the novel was not published in Britain until 1960. Lawrence continued writing into his final days, despite rapidly declining health. He died on 2 March, 1930, at the Villa Robermond, France, from tuberculosis.