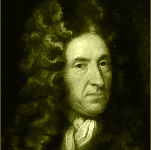 1660 – 24 April 1731
Daniel Defoe was born in London, England in 1660. He attended a school for Dissenters, with the intention of becoming a minister, but he changed his mind and instead became a hosiery merchant. In 1685, Defoe participated in the Monmouth Rebellion – a West Country rebellion in which James Scott, the 1st Duke of Monmouth, attempted to overthrow James II – on the side of the King. His 1701 poem, 'The True Born Englishman', attacked those who thought England shouldn't have a foreign-born king, and propelled him into the limelight as a vocal supporter of the monarchy.
From 1703, Defoe worked as a spy for the Earl of Oxford, founding and editing a newspaper, The Review (1704-1713). In 1719, after two spells in prison – for slandering, in turn, the Anglican Church and the Whig Party – Defoe turned to writing fiction. His first novel, Robinson Crusoe (1719), was and remains a huge success, having never gone out of print. He followed it with the novels Captain Singleton (1720), Journal of the Plague Year (1722), Captain Jack (1722), Moll Flanders (1722) and Roxanda (1724) – all of which sold well. He also penned a three-volume travel book, Tour Through the Whole Island of Great Britain (1724-1727).
By the year of his death, 1731, Defoe had published more than 500 books and pamphlets, as well as short fiction and poems. He is now regarded as one of the founders of the English novel (before his time, fiction was written almost exclusively in the form of verse or plays).