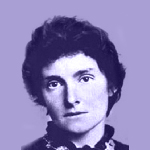 15 August 1858 – 4 May 1924
Edith Nesbit was born in Kennington, Surrey in 1858. Her family moved around constantly during her youth, living variously in Brighton, Buckinghamshire, France, Spain and Germany, before settling for three years in Halstead in north-west Kent, a location which later inspired her well-known novel, The Railway Children.
In 1880, Nesbit married Hubert Bland, and her writing talents – which had been in evidence during her teens – were quickly needed to bring in extra money.
Over the course of her life, Nesbit would go on to publish approximately 40 books for children, including novels, collections of stories and picture books. Among her best-known works are The Story of the Treasure Seekers (1898), The Wouldbegoods (1899) and The Railway Children (1906).
Nesbit is regarded by many critics as the first truly 'modern' children's writer, in that she replaced the fantastical worlds utilised by authors such as Lewis Carroll with real-life settings marked by the occasional intrusion of magic. In this, Nesbit is seen as a precursor to writers such as J. K. Rowling and C. S. Lewis.
Nesbit was also a lifelong socialist; in 1884 she was among the founding members of the influential Fabian Society. For much of her adult life she was an active lecturer and prolific writer on socialism.
Having suffered from lung cancer for some years, Nesbit died in 1924 at New Romney, Kent, aged 65.