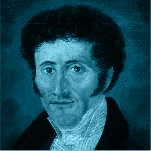 24 January 1776 – 25 June 1822
Ernst Theodor Wilhelm Hoffmann was born in Königsberg, East Prussia in 1776. His family were all jurists, and during his youth he was initially encouraged to pursue a career in law. However, in his late teens Hoffmann became increasingly interested in literature and philosophy, and spent much of his time reading German classicists and attending lectures by, amongst others, Immanuel Kant.
In was in his twenties, upon moving with his uncle to Berlin, that Hoffmann first began to promote himself as a composer, writing an operetta called Die Maske and entering a number of playwriting competitions. Hoffmann struggled to establish himself anywhere for a while, flitting between a number of cities and dodging the attentions of Napoleon's occupying troops. In 1808, while living in Bamberg, he began his job as a theatre manager and a music critic, and Hoffmann's break came a year later, with the publication of Ritter Gluck. The story centered on a man who meets, or thinks he has met, a long-dead composer, and played into the 'doppelgänger' theme – at that time very popular in literature. It was shortly after this that Hoffmann began to use the pseudonym E. T. A. Hoffmann, declaring the 'A' to stand for 'Amadeus', as a tribute to the great composer, Mozart.
Over the next decade, while moving between Dresden, Leipzig and Berlin, Hoffmann produced a great range of both literary and musical works. Probably Hoffmann's most well-known story, produced in 1816, is 'The Nutcracker and the Mouse King', due to the fact that – some seventy-six years later - it inspired Tchaikovsky's ballet The Nutcracker. In the same vein, his story 'The Sandman' provided both the inspiration for Léo Delibes's ballet Coppélia, and the basis for a highly influential essay by Sigmund Freud, called 'The Uncanny'. (Indeed, Freud referred to Hoffmann as the "unrivalled master of the uncanny in literature.")
Alcohol abuse and syphilis eventually took a great toll on Hoffmann though, and – having spent the last year of his life paralysed – he died in Berlin in 1822, aged just 46. His legacy is a powerful one, however: He is seen as a pioneer of both Romanticism and fantasy literature, and his novella, Mademoiselle de Scudéri: A Tale from the Times of Louis XIV is often cited as the first ever detective story.
Books of E. T. A. Hoffmann