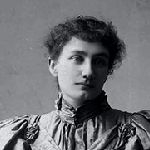 January 28 1862 – December 27 1940
Mrs. Ella Rhoads Higginson, poet and author, was born in a log cabin near Council Grove, Kans., in 1862. Her maiden name was Ella Rhoads.
In 1864 her family moved westward over the plains to Oregon, where she has spent most of her life. Her educational advantages were limited to a grammar-school course and a short season in the Oregon City Seminary.
In 1886 she became the wife of Russell C. Higginson, a druggist, and their home is in Sehome, on Bellingham Bay, Puget Sound, Washington.
Mrs. Higginson edited a woman's department in the West Shore for several years, and she also contributes to a number of eastern periodicals and journals. In her girlhood she wrote several love stories, but she did not seriously attempt literature until 1888. In that year she sent a poem to the Boston Courier, which attracted general attention and was widely copied. She had published a number of poems in the West Shore, but the Boston incident was her first important incentive to higher effort.
Since that date she has written and published many remarkable poems, and she now ranks with the foremost of the younger singers of the United States.
 - A Biography By Frances E. Willard and Mary A. Livermore,
A Woman of the Century, 1893