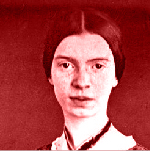 December 10 1830 – May 15 1886
Emily Dickinson was born in 1830 in Amherst,  western Massachusetts, USA. Her family were one of the most prominent in the state – her father, Edward Dickinson was a Yale graduate, successful lawyer, Treasurer for Amherst College and a United States Congressman. The Dickinsons were strong advocates for education and Emily benefited from an early education in classic literature, studying the writings of Virgil and Latin, mathematics, history, and botany.
In 1840, Dickinson entered Amherst Academy under the tutelage of scientist and theologian, Edward Hitchcock. She proved to be an excellent student, and in 1847, at the age of seventeen, Dickinson left for South Hadley, Massachusetts to attend the Mount Holyoke Female Seminary. She stayed there less than a year, however, perhaps due to homesickness, and returned home. It was at this point that she began to write her first poems and to adopt something of a reclusive lifestyle.
In 1862 Dickinson answered a call for poetry submissions in the Atlantic Monthly. She struck up a correspondence with its editor, Thomas Wentworth Higginson, and the two of them became close friends. In the mid-sixties, she visited an eye doctor in Boston, who forbade her to read or write. It would be the last time she ventured from Amherst, and by 1874, following the death of her father, she had stopped going out in public. Living out the rest of her life in solitude, she eventually began to suffer from Bright's Disease and died in 1886, aged 56.
Although many friends and fellow artists had encouraged Dickinson to publish her poetry, only a handful of them appeared publicly during her lifetime. Upon her death, her sister Lavinia found hundreds of them. Mostly written in pencil, only a few were titled, and many were unfinished. Gradually, her sister arranged them chronologically into collections for publication: Poems, Series 1 in 1890, Poems, Series 2 in 1891, and Poems, Series 3 in 1896.
In 1914, Dickinson's niece published another of her collections. Even with the first few volumes, her work attracted much attention. In 1955, Thomas H. Johnson published the first comprehensive collection of her poems in three volumes titled The Poems of Emily Dickinson, Including Variant Readings Critically Compared With All Known Manuscripts.
Today, Dickinson ranks amongst the greatest American poets of all time and one of the most original writers of the 19th century. She is noted for her unconventional broken rhyming meter, frenetic punctuation, and bizarre use of metaphor. Amongst her most famous poems are 'Because I Could Not Stop for Death', 'Heart, we will forget him!', 'I'm Nobody! Who are You?', and 'Wild Nights! Wild Nights!'