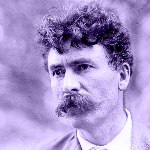 August 14 1860 – October 23 1946
Ernest Thompson Seton was born on 14th August 1860, in South Shields, County Durham, England. He grew up to be a pioneering author, wildlife artist, founder of the Woodcraft Indians, and one of the originators of the Boy Scouts of America (BSA).
The Seton family emigrated to Canada when Ernest was just six years old, and most of his childhood was consequently spent in Toronto. As a youth, he retreated to the woods to draw and study animals as a way of avoiding his abusive father – a practice which shaped the rest of his adult life. On his twenty-first birthday, Seton's father presented him with a bill for all the expenses connected with his childhood and youth, including the fee charged by the doctor who delivered him. He paid the bill, but never spoke to his father again.
Originally known as Ernest Evan Thompson, Ernest changed his name to Ernest Thompson Seton, believing that Seton had been an important name in his paternal line. He became successful as a writer, artist and naturalist, and moved to New York City to further his career. Seton later lived at 'Wyndygoul', an estate that he built in Cos Cob, a section of Greenwich, Connecticut. After experiencing vandalism by some local youths, Seton invited the young miscreants to his estate for a weekend, where he told them what he claimed were stories of the American Indians and of nature.
After this experience, he formed the Woodcraft Indians (an American youth program) in 1902 and invited the local youth to join (at first just boys, but later girls as well). The stories that Seton told became a series of articles written for the Ladies Home Journal, and were eventually collected in The Birch Bark Roll of the Woodcraft Indians in 1906. Seton also met Scouting's founder, Lord Baden-Powell, in 1906. Baden-Powell had read Seton's book of stories, and was greatly intrigued by it. After the pair had met and shared ideas, Baden-Powell went on to found the Scouting movement worldwide, and Seton became vital in the foundation of the Boy Scouts of America (BSA) and was its first Chief Scout (from 1910 – 1915).  Despite this large achievement, Seton quickly became embroiled in disputes with the BSA's other founders, Daniel Carter Beard and James E. West.
In addition to disputes about the content of Seton's contributions to the Boy Scout Handbook, conflicts also arose about the suffrage activities of his wife, Grace, and his British citizenship (it being an American organization). In his personal life, Seton was married twice. The first time was to Grace Gallatin in 1896, with whom he had one daughter, Ann (who later changed her name to Anya), and secondly to Julia M. Buttree, with whom he adopted an infant daughter, Beulah (who also changed her first name, to Dee). Alongside his work with the Woodcraft Indians and the BSA, Seton also found time to pursue his primary interest – that of nature writing.
Seton was an early pioneer of animal fiction writing, his most popular work being Wild Animals I Have Known (1898), which contains the story of his killing of the wolf Lobo. He later became involved in a literary debate known as the nature fakers controversy, after John Burroughs published an article in 1903 in the Atlantic Monthly attacking writers of sentimental animal stories. The controversy lasted for four years and included important American environmental and political figures of the day, including President Theodore Roosevelt. Seton was also associated with the Santa Fe arts and literary community during the mid-1930s and early 1940s, which comprised a group of artists and authors including author and artist Alfred Morang, sculptor and potter Clem Hull, painter Georgia O'Keeffe, painter Randall Davey, painter Raymond Jonson, leader of the Transcendental Painters Group, and artist Eliseo Rodriguez.
In 1931, Seton became a United States citizen. He died on 23rd October, 1946 (aged eighty-six) in Seton Village in northern New Mexico. Seton was cremated in Albuquerque. In 1960, in honour of his 100th birthday and the 350th anniversary of Santa Fe, his daughter Dee and his grandson, Seton Cottier (son of Anya), in a fitting tribute to the man who loved his surrounding countryside so much, scattered his ashes over Seton Village from an airplane.
Books of Ernest Thompson Seton