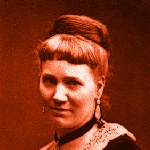 9 July 1833 – 27 October 1899
Florence Marryat, successively Mrs. Church and Mrs. Lean (1838–1899), was a novelist, born at Brighton on 9 July 1838. She was sixth daughter and tenth child of Captain Frederick Marryat and his wife Catherine, daughter of Sir Stephen Shairp of Houston, Linlithgowshire. She was educated at home, and was always a great reader.
On 13 June 1854, at the age of sixteen, she married at Penang T. Ross Church, afterwards colonel in the Madras staff corps, with whom she traveled over nearly the whole of India. She had by him eight children. She outlived him, and in 1890 married, as her second husband, Colonel Francis Lean of the royal marine light infantry.
Her first novel, Love's Conflict, written to distract her mind in the intervals of nursing her children with scarlet fever, appeared in 1865. Between that date and the year of her death she published some ninety novels, many of which, notwithstanding their mediocre character, were translated into German, French, Swedish, Flemish, and Russian, and became popular in America. From 1872 to 1876 she edited the monthly periodical called London Society.
In 1872 she published in two volumes the Life and Letters of Captain Marryat; it does not present a complete portrait of her father; the scanty material is supplemented by too many trifling details.
In the latter years of her life she was much attracted to spiritualism. Although a Roman catholic, she received permission from her director, Father Dalgairn of the Brompton oratory, to pursue researches of the kind in the cause of science. There is no Death, published in 1891, gives a detailed account of the various media with whom she came in contact, and of the séances she attended. Although it bears evident marks of the author's sincerity, it is difficult to believe that a large element of fiction does not enter into the volume. Other books dealing with the subject are The Risen Dead (1893) and The Spirit World (1894). Tom Tiddler's Ground, a book of travel (1886), is an account of America.
A woman of varied accomplishments, she added to the roles of author and novelist, those of playwright, comedy actress, operatic singer, giver of lectures and entertainments, and manager of a school of journalism. She acted in a drama of her own, entitled 'Her World', produced in London in 1881. She died at St. John's Wood, London, on 27 Oct. 1899.
 - A Biography by Elizabeth Lee,
Dictionary of National Biography, 1901 supplement
Books of Florence Marryat