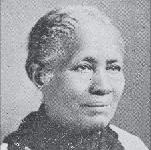 September 24 1825 – February 22 1911
Frances Ellen Watkins was born in the city of Baltimore in the year 1825. Although of "free" parentage, she was subjected to many of the disadvantages and oppressive influences which bond and free alike experienced under slave laws. Mrs. Harper, after she had grown up, expressed very pathetically, but clearly, the loneliness of her childhood days, in the following extract from her writings:
"Have I yearned for a mother's love? The grave was my robber. Before three years had scattered their blight around my path, death had won my mother from me. Would the strong arm of a brother have been welcome? I was my mother's only child."
The earliest portion of her life was spent in the care of her aunt, while she enjoyed the privilege of attending the day school taught by her uncle, Rev. William Watkins, for the benefit of "free" colored children. But, when she was about thirteen years of age, she was taken from school and put to work to earn her own living. She had, of course, many trials and temptations; but, at the same time, she greatly profited by her environment, in the white family where she was employed. Very early, in her teens, she gave unmistakable evidence of poetic and literary ability. She was taught sewing, while she cared for the children of the household, and, at the same time she satisfied her ever-growing fondness for books and good literature. She had scarcely reached her majority 'ere she had written a number of prose and poetic pieces which were deemed of sufficient merit to be published in a small volume under the title of Forest Leaves. Some of her efforts found their way into the newspapers. Her mind was of a strictly religious caste, and all the effusions of her pen bear a highly moral and elevating tone. About the year 1851, she left Baltimore to seek a home in a free State; and, for a short while, took up her abode in the State of Ohio, where she engaged in teaching. Her residence in Ohio was but for a short time. She removed to Little York, Pennsylvania, where she continued the work of teaching. It was while teaching in York that she became thoroughly drawn to the work of the Anti-Slavery cause, and, eventually, became one of its leading public lecturers, and with devotion and energy, gave herself, wholly to the cause.
In 1856, Mrs. Harper, desiring to see the fugitives in Canada, visited the Upper Province, and, in a letter dated at Niagara Falls, September 12 she gives the impression of that visit upon her heart and mind in the following language: "Well I have gazed for the first time upon Free Land, and, would you believe it, tears sprang to my eyes, and I wept. Oh, it was a glorious sight to gaze for the first time on a land where a poor slave flying from our glorious land of liberty would in a moment find his fetters broken, his shackles loosed, and whatever he was in the land of Washington, beneath the shadow of Bunker Hill Monument or even Plymouth Rock, here he becomes a man and a brother. I have gazed on Harper's Ferry, or rather the Rock at the Ferry; I have seen it towering up in simple grandeur, with the gentle Potomac gliding peacefully at its feet, and felt that that was God's masonry, and my soul has expanded in gazing on its sublimity. I have seen the ocean singing its wild chorus of sounding waves, and ecstacy has thrilled upon the living chords of my heart. I have since then seen the rainbow-crowned Niagara chanting the choral hymn of Omnipotence, girdled with grandeur, and robed with glory; but none of these things have melted me as the first sight of Free Land. Towering mountains lifting their hoary summits to catch the first faint flush of day when the sunbeams kiss the shadows from morning's drowsy face may expand and exalt your soul. The first view of the ocean may fill you with strange delight. Niagara--the great, the glorious Niagara--may hush your spirit with its ceaseless thunder; it may charm you with its robe of crested spray and rainbow crown; but the land of Freedom was a lesson of deeper significance than foaming waves or towering mounts."
It was in the fall of 1860 that Miss Watkins was married to a Mr. Harper, of Ohio. Mr. Harper died in May, 1864.
This brave woman who had traveled throughout the North in the interest of the Anti-Slavery cause, immediately after the close of the Civil War, was among the very first to go South, and labor on behalf of her emancipated brethren. She traveled, and labored in nearly every one of the Southern States. She went on the plantations, and amongst the lowly, as well as to the cities and towns, addressing schools, churches, meetings in Court Houses, Legislative Halls, and sometimes under the most trying and hazardous circumstances; influenced in her labor of love, wholly by the noble impulses of her own heart, working her way along unsustained by any society. She came into contact with all classes, the original slave holders, and the Freedmen. In no instance did she permit herself, through fear, to disappoint an audience when engagements had been made for her to speak, although frequently admonished that it would be dangerous to venture in so doing.
A Chapter by George F. Bragg,
Men of Maryland, 1914
Books of Frances Ellen Watkins Harper