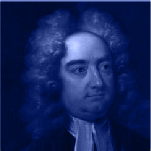 30 November 1667 – 19 October 1745
Jonathan Swift was born in Dublin, Ireland in 1667.  His parents were extremely poor, and he was raised by his uncle.  Swift earned his B.A. at Trinity College, and was intending to continue his studies before they were interrupted by the Glorious Revolution of 1688.  Lacking financial support, he went to England, where in a stroke of luck he obtained a position as secretary to retired diplomat Sir William Temple.
In his new employment, Swift became acquainted with many politically influential figures of the day; something which would infuse his later writings.  With Temple's help, Swift entered Oxford University, where in 1692 he earned his M.A. Although initially intending to go into the clergy, Swift was gradually drawn to writing.  In 1704, he penned The Battle of the Books, a defence of Temple's stance on the importance of ancient literature over modern which drew him some recognition.
In 1710, Swift joined the Tories, and his political pamphlets – The Conduct of the Allies (1711), The Public Spirit of the Whigs (1714) and others – quickly established him as one of the most talented pamphleteers of the day.   Some years later, his A Modest Proposal (1829) – which posited that the children of the Irish poor could be put to good use by providing food for the rich of England – appeared.  It is now regarded as one of the greatest satirical essays of all time.
Swift also produced many works on ecclesiastical matters, including his well-remembered Against Abolishing Christianity (1708).  However, Gulliver's Travels, published in 1726, is widely considered to be his masterpiece.  A hilarious illustration of the pettiness of people and politics, the novel was an instant bestseller.  It has never been out of print in almost four centuries, and has inspired numerous sequels and adaptations.
Swift began to suffer from a variety of physical and mental ailments in the final years of his life, eventually dying in 1745, at the age of 77.  He is now widely regarded as the foremost prose satirist in the English language.