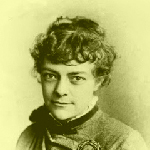 February 17 1858 – December 12 1923
Margaret Warner Morley, an author, is well known by her former volumes Seed Babies, Flowers and Their Friends, Little Wanderers, etc.
She writes for little people, and teaches them the A B C of science. She sends her little students to nature; not to torture the little creatures studied, but to watch them. She teaches them how they may find and carefully observe the little lives that are all around them in the world, and so she opens their eyes to the beauty and fascination of nature study.
 - An Excerpt from Education, A Monthly Magazine, 1880, Page 255
Books of Margaret Warner Morley