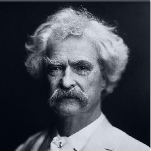 30 November 1835 - 21 April 1910
Samuel Langhorne Clemens, better known by his pseudonym Mark Twain, was born on 30 November, 1835 in Florida, Missouri, USA. He was born the day after a visit by Halley's Comet, and died the day following its subsequent return in 1910.
He is best known for the novels The Adventures of Tom Sawyer (1876) and its sequel, Adventures of Huckleberry Finn (1885), the latter often referred to as 'the Great American Novel'. Hailed as 'the Father of American literature' by William Faulkner, Twain was a friend of presidents, performers, entrepreneurs and royalty. His wit and satire endeared him to peers and critics alike.
Twain spent most of his childhood in Hannibal, Missouri, which provided the inspirational setting for much of his later works. It was here that Twain started writing, contributing articles to his older brother, Orion's newspaper. After a brief, unsuccessful, spell mining in Nevada and California, twain returned to writing – penning The Celebrated Jumping Frog of Calaveras County in 1865. This was a humorous tale based on a story heard at a mining camp in California, and won Twain international attention. Five years later, Twain married Olivia Langdon, the sister of Charles Langdon, a man whom Twain met on a trip to the Middle East. Upon Langdon showing a picture of his sister Olivia to Twain, Twain claimed to have fallen in love with her at first sight. Through Olivia, Twain met many prominent liberals, socialists and political activists, including Harriet Beecher Stowe, the abolitionist and author, as well as the utopian socialist, William Dean Howells. These connections deeply influenced Twain's later political outlook, remaining firmly anti-imperialist, anti-organised religion, an abolitionist and a steady supporter of the labour movement. Twain and Olivia had three daughters, Susy, Clara and Jean, and one son, Langdon. Unfortunately Langdon died whilst he was still in infancy. The family spent many happy summers at Quarry Farm - Olivia's sister's home on the outskirts of New York, where Twain wrote many of his classic novels; The Adventures and Huckleberry Finn, as well as The Prince and the Pauper (1881), Life on the Mississippi (1883) and A Connecticut Yankee in King Arthur's Court (1889).
Despite these successes, financial as well as literary, Twain lost a great deal of money through investing in new technologies. His love of science and invention led him to invest a massive 300,000 dollars (about 8 million dollars today) in the Paige typesetting machine. This mechanical marvel was made redundant before it was even completed however, by the Linotype machine, and Twain lost his entire investment. As a result of this, on the advice from a friend, Twain filed for Bankruptcy. Fortunately, he was heavily in demand as a featured speaker, and embarked on a massive worldwide lecture tour in July 1895 to pay off all his creditors.
After nearly five years travelling, Twain returned to America having earned enough money to pay off his debts. On his homecoming, Twain sadly suffered a period of deep depression, which began on his daughter Susy's death in 1896, and worsened on the death of his wife in 1904 and his other daughter Jean in 1909. Twain died of a heart attack on 21 April, 1910, in Redding, Connecticut. He had predicted his death, the day after Halley's comets closest approach to Earth;
'It will be the greatest disappointment of my life if I don't go out with Halley's Comet. The Almighty has said, no doubt: 'Now here are these two unaccountable freaks; they came in together, they must go out together.''
He is buried at Woodlawn Cemetery, Elmira, New York.