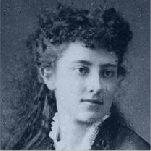 24 March 1855 – 11 December 1920
Olive Schreiner was born on Wittebergen Reserve, Cape Colony (present-day Lesotho) in 1855. After finishing school, she found work as a governess and a schoolteacher, and during her free time began to work on a novel about her experiences in South Africa.
When Schreiner had saved enough money, she travelled to Britain, hoping to become a doctor. She lived in London where she began attending lectures at the Medical School, as well as attending socialist meetings. Schreiner met the publisher George Meredith, who in 1883 published her best-known novel, Story of an African Farm. A commercial and critical success, it is now seen as a defining work of early feminism – as is her later work, Women and Labour (1911).
Over the rest of her life, Schreiner made the acquaintance of a number of figures in London society, including future Prime Minister William Gladstone. In 1889, she returned to South Africa to be with her family. Her brother, William Schreiner, later became prime minister of Cape Colony. Over the next few years she published two collections of short stories, Dreams (1891) and Dream Life and Real Life (1893). She also became heavily involved in politics, and was a fierce opponent of racism and imperialism. Her 1897 work Trooper Peter Halkett of Mashonaland (1897) was a strong attack on British rule in South Africa.
At the outbreak of the First World War, Schreiner moved back to Britain. Over the next four years she was active in the peace movement and worked closely with organizations such as the Union of Democratic Control and the Non-Conscription Fellowship. She returned to South Africa in of August 1920, and dying following a heart attack later that year.