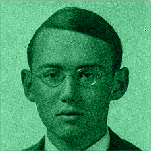 July 22 1898 – March 13 1943
Stephen Vincent Benét was born on 22nd July 1898 in Bethlehem, Pennsylvania, United States.
Benét was sent to the Hitchcock Military Academy at the age of ten and then continued his education at The Albany Academy in New York. He also attended Yale University where he received his M.A. in English.
Benét was an accomplished writer at an early age, having had his first book published at 17 and submitting his third volume of poetry in lieu of a thesis for his degree. During his time at Yale, he was an influential figure at the 'Yale Lit' literary magazine, and a fellow member of the Elizabethan Club. Benét was also a part-time contributor for the early Time Magazine.
Benét's involvement with the University literary scene led to a decade-long judgeship of the Yale Series of Younger Poets Competition. He is also responsible for publishing the first volumes of work by authors such as James Agee, Muriel Rukeyser, Jeremy Ingalls, and Margaret Walker. In 1931, he was elected as a fellow of the American Academy of Arts ad Sciences.
Benét's best known works are the book-length narrative poem American Civil War, John Brown's Body (1928), for which he won a Pulitzer Prize in 1929, and two short stories, The Devil and Daniel Webster (1936) and By the Waters of Babylon (1937). Benét won a second Pulitzer Prize posthumously for his unfinished poem Western Star in 1944.
Stephen Vincent Benét died of a heart attack in New York City, on 13th March, 1943, and is buried in Evergreen Cemetery, Stonington, Connecticut.
Books of Stephen Vincent Benét