Werner's Nomenclature of Colours comprises a collection swatches displaying nature's colour palette together with their poetical descriptions. Used by scientists for centuries, including Charles Darwin during his time on the HMS Beagle, it set the basis for modern colours in the early 1800s.
As part of our Art Meets Science imprint, we have republished this beautiful little volume in a new facsimile edition taking great care to reproduce the original text and art for a new generation of artists and scientists.
We're diving inside this stunning title to show you a closer look.
---
It all began in the 18th Century when German geologist Abraham Gottlob Werner set out to establish a standard reference guide to colour for use in the general sciences. He created a colour classification system using the minerals that he observed as a distinguished geologist.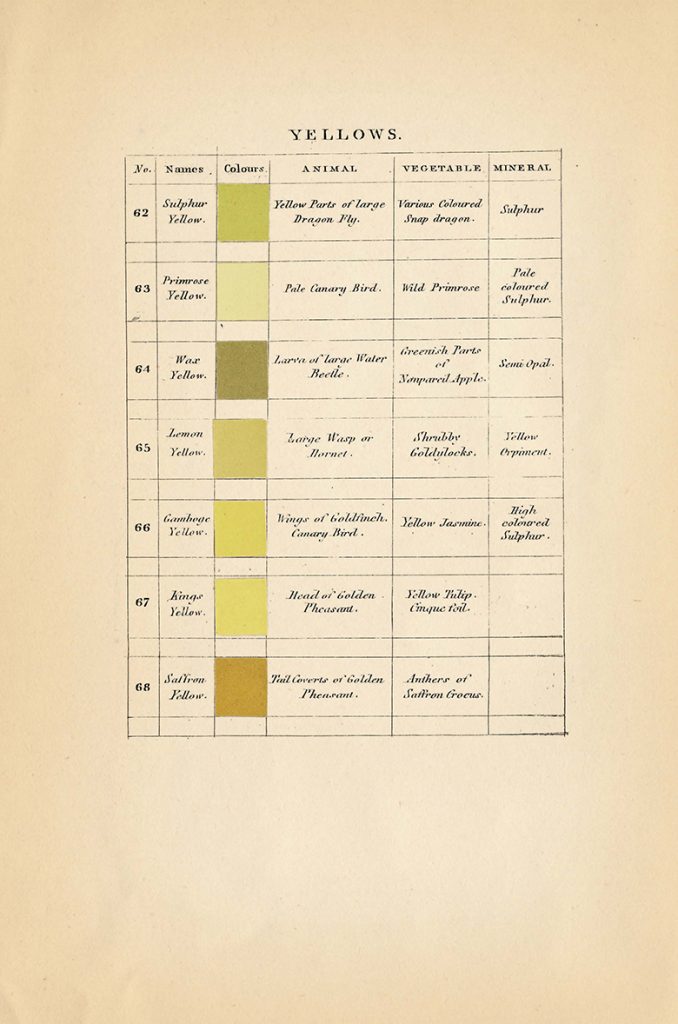 In 1814, this work was picked up by Scottish flower painter Patrick Syme who later enhanced and extended Werner's work.
"An object may be described of such a color by one person, and perhaps mistaken by another for quite a different tint."

– Patrick Syme
He increased the number of 54 colours listed and painstakingly collected the colour swatches. This collection included all of the most common colours or tints that appear in nature, with each colour swatch accompanied by examples from the animal, vegetable and mineral kingdoms.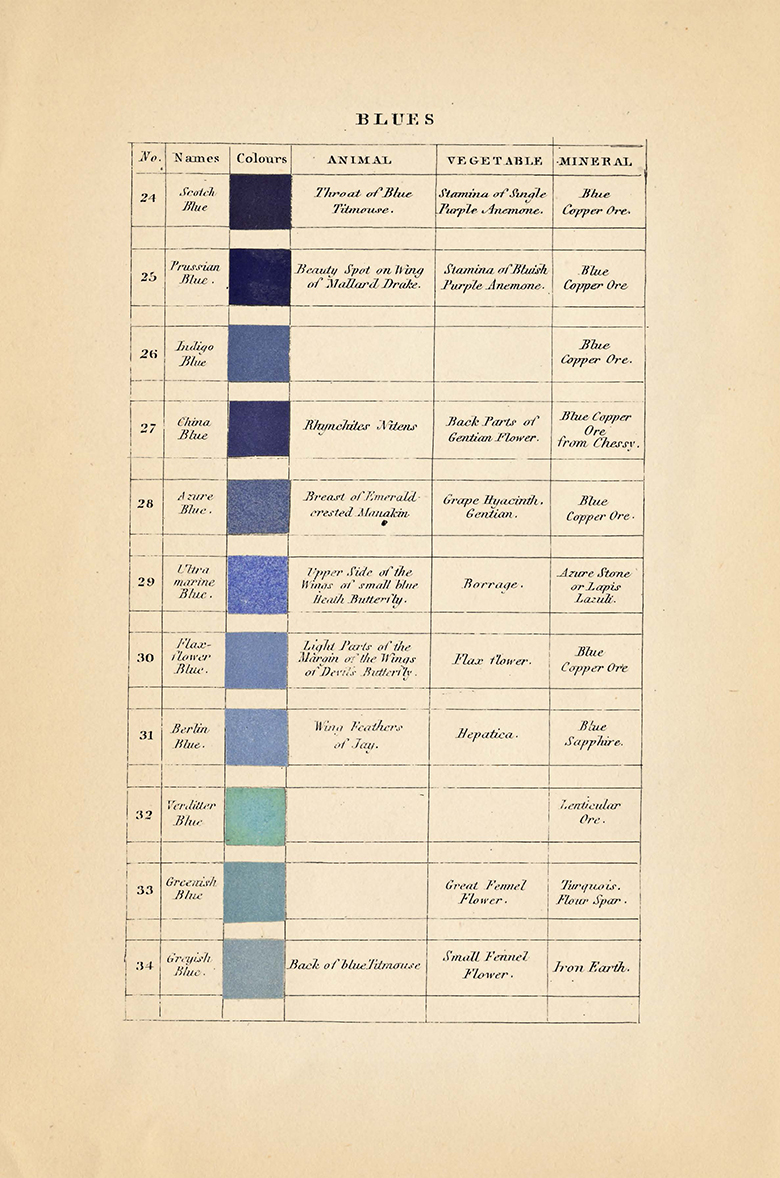 'This is where you get the wonderful names for colours like "Back of Nuthatch" or "Beauty Spot on Wing of Teal Drake". Syme's descriptions of colour are poetic but were also useful.'

– Andrea Hart, Library Special Collections Manager, The Natural History Museum
It is known to have been used by a recently graduated Charles Darwin during an expedition on the HMS Beagle in 1831, describing his encounters using the colour terminology directly quoted from the book.
I had been struck by the beautiful colour of the sea when seen through the chinks of a straw hat… according to Werner nomenclature 'Indigo with a little Azure blue'. The sky at the time was 'Berlin with little ultra marine' & there were some cirro cumili scattered about."

Charles Darwin – On his voyage of the HMS Beagle
However, Darwin was far from its only admirer. Syme's work was invaluable to many scientists, explorers and anthropologists to further their studies, adding a poetic flourish to their descriptions when using the colour names.
Werner's Nomenclature of Colours is considered the predecessor of modern systems such as Pantone. It has even inspired heritage paint ranges from the likes of Dulux and Farrow & Ball who worked closely with the original edition to bring these vintage colours into the 21st century.
The first title from our Art Meets Science imprint, this little volume is both beautiful and insightful.
Werner's Nomenclature of Colours is available in paperback, but also in a digital printed clothbound with gorgeous matt jacket. Read more about our edition here.
Explore the Natural History Collection here.
---
Loved this post? Say it with a pin!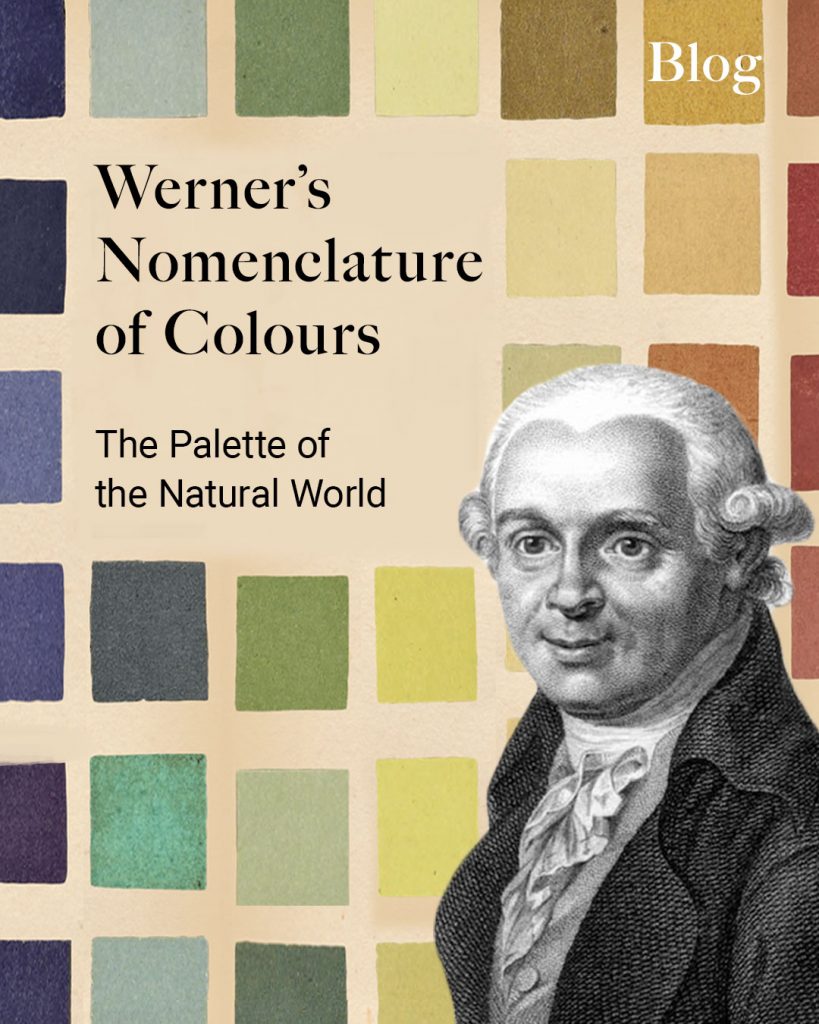 ---