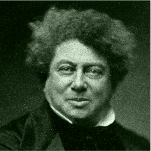 24 July 1802 - 5 December 1870
Alexandre Dumas was born in Villers-Cotterêts, France in 1802. His parents were poor, but their heritage and good reputation – Alexandre's father had been a general in Napoleon's army –provided Alexandre with opportunities for good employment.
In 1822, Dumas moved to Paris to work for future king Louis Philippe I in the Palais Royal. It was here that he began to write for magazines and the theatre.
In 1829 and 1830 respectively, Dumas produced the plays Henry III and His Court and Christine, both of which met with critical acclaim and financial success. As a result, he was able to commit himself full-time to writing. Despite the turbulent economic times which followed the Revolution of 1830, Dumas turned out to have something of an entrepreneurial streak, and did well for himself in this decade. He founded a production studio that turned out hundreds of stories under his creative direction, and began to produce serialised novels for newspapers which were widely read by the French public. It was over the next two decades, as a now famous and much loved author of romantic and adventuring sagas, that Dumas produced his best-known works – the D'Artagnan romances, including The Three Musketeers, in 1844, and The Count of Monte Cristo, in 1846.
Dumas made a lot of money from his writing, but he was almost constantly penniless as a result of his extravagant lifestyle and love of women.
In 1851 he fled his creditors to Belgium, and then Russia, and then Italy, not returning to Paris until 1864. Dumas died in Puys, France, in 1870, at the age of 68. He is now enshrined in the Panthéon of Paris alongside fellow authors Victor Hugo and Emile Zola. Since his death, his fiction has been translated into almost a hundred languages, and has formed the basis for more than 200 motion pictures.