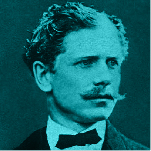 June 24 1842 – 1913
Ambrose Gwinnett Bierce was born in Meigs County, Ohio, United States in 1842. He was the tenth of thirteen children, and left home aged fifteen to become a 'printer's devil' (a printing apprentice) at a small Ohio newspaper. Bierce fought in the American Civil War, working as a topographical engineer and even reaching the rank of brevet major before resigning from the Army to settle in San Francisco. During the 1870s and 1880s, he worked on a variety of newspapers, even spending three years in England, and famously helped quash a bill which would have put the cost of the First Transcontinental Railroad on the American people instead of the railroad companies.
Through his newspaper output – including one of the first regular columns in William Randolph Hearst's newspaper, the San Francisco Examiner – Bierce developed a famous reputation for searing criticism and acerbic wit, even earning the nickname 'Bitter Bierce'. His satirical reference book, The Devil's Dictionary, which lampooned cant and political doublespeak – "Corporation (n.) An ingenious device for obtaining profit without individual responsibility"– remains widely read today. However, Bierce is critically best remembered for his fiction. Indeed, many of his short stories – such as An Occurrence at Owl Creek Bridge, The Boarded Window, Killed at Resaca and Chickamauga, all of which are penned in 'Pure English' – are held among the best of the 19th century. Bierce's writings are also generally regarded as some of the best war writings of all time.
Bierce's death was a mysterious one, which continues to intrigue people to this day: In October 1913, aged 71, Bierce left Washington, D.C., for a tour of his old Civil War battlefields. He got as far as the Mexican city of Chihuahua, where he wrote a letter to a close friend, dated 26th December, 1913, in which he said "I leave here tomorrow for an unknown destination." After this he vanished, becoming one of the most famous disappearances in American literary history.