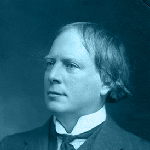 3 March 1863 – 15 December 1947
Arthur Machen was born in Caerleon, Monmouthshire, Wales in 1863. At the age of eleven, he boarded at Hereford Cathedral School, where he received a comprehensive classical education. Family poverty ruled out going to university, and Machen was sent to London, where he sat entrance exams at medical school but failed to get in. In the capital, he lived in relative poverty, working in a variety of short-lived jobs and exploring the city during the evenings. However, he began to show literary promise; in 1881, at the age of just eighteen, he published a long poem, 'Eleusinia', and in 1884, he published his second work, the pastiche The Anatomy of Tobacco.
By 1890, Machen was publishing in literary magazines, and writing stories with Gothic and fantastic themes. His first major success came in 1894, with the novella The Great God Pan. Although widely denounced by the press as degenerate and horrific because of its decadent style and sexual content, it has since garnered a reputation as a classic of horror; indeed, author Stephen King has called it "maybe the best [horror story] in the English language." Machen next produced The Three Impostors (1895), a novel composed of a number of interwoven tales which are now regarded as some of his best works.
Between 1900 and 1910, Machen dabbled in acting, and published what is generally seen as his magnum opus, The Hill of Dreams (1907). He accepted a full-time journalist's job at Alfred Harmsworth's Evening News in 1910, where he remained throughout the war, not leaving until 1921. Machen accepted this role mainly to pay his bills – fiction-writing was his true passion, and he carried on producing novels and short stories throughout the 1910s – but he came to be regarded as a great Fleet Street character by his contemporaries.
The early 1920s saw something of a Machen boom; his works became popular in America, and he brought out his two-volume autobiography. However, by 1929 he was struggling financially again, and left London with his family. It was only a literary appeal launched on the occasion of his eightieth birthday – which drew contributions from admirers such as T. S. Eliot and Bernard Shaw – that eventually ended Machen's money woes. He died some years later in Beaconsfield, Buckinghamshire, England, aged 84. His legacy remains formidable; his work has influenced countless other artists, and is seen as setting the stage for – amongst other things – the Cthulhu horrors of H. P. Lovecraft.