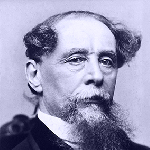 7 February 1812 - 9 June 1870
Charles John Huffam Dickens was born in Landport, Portsmouth in 1812. When he was ten years old, his family settled in Camden Town, a poor neighbourhood of London. A defining moment in the young Dickens' life came only two years later, when his father – the inspiration for the character of Mr Micawber in David Copperfield – was imprisoned in the Marshalsea debtor's prison. As a result, Dickens was sent to Warren's blacking factory, where he worked in appalling conditions and gained a first-hand acquaintance with poverty. After three years Dickens resumed his education, but the experience was highly formative for him, and would later be fictionalised in both David Copperfield and Great Expectations.
Dickens' writing career began in around 1830, when he started to write for the journals The Mirror of Parliament and The True Sun. Three years later, he became parliamentary journalist for The Morning Chronicle, and also began to have some successes with his fiction: His first short story, A 'Dinner at Popular Walk', appeared in the Monthly Magazine in December of 1833, and his first book, a collection titled Sketches by Boz, was published in 1836. However, his real breakthrough came in 1837, with the serialised publication of Posthumous Papers of the Pickwick Club – the work was hugely popular, and transformed Dickens into a well-known literary figure.
Over the next few years, at an almost incredible rate, Dickens wrote Oliver Twist (1837-39), Nicholas Nickleby (1838-39) and The Old Curiosity Shop and Barnaby Rudge (1840-41). In 1842, he travelled with his wife to the United States and Canada (where he gave lectures denouncing slavery), and in the years following produced his five 'Christmas Books'. During the fifties, after brief spells living in Italy and Switzerland, he continued to write at a seemingly inexhaustible pace, producing some of his best work: David Copperfield (1849-50), Bleak House (1852-53), Hard Times (1854), Little Dorrit (1857), A Tale of Two Cities (1859), and Great Expectations (1861).
During the latter stages of his life, Dickens turned his focus from writing to giving readings. In 1869, during one such reading, he collapsed, showing symptoms of a mild stroke. He died at home one year later, aged 58. He was buried in the Poets' Corner of Westminster Abbey, where the inscription on his tomb reads:
"He was a sympathiser to the poor, the suffering, and the oppressed;
and by his death, one of England's greatest writers is lost to the world."
Dickens is now regarded as the greatest writer of the Victorian era, and one of the greatest English authors since Shakespeare.