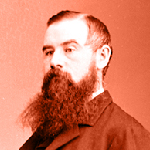 August 15 1824 – March 20 1903
Charles G. Leland, an American author. Son of a merchant, he was born at Philadelphia on the 15th of August 1824 and graduated at Princeton in 1845.  
He afterwards studied at Heidelberg, Munich and Paris. He was in Paris during the revolution of 1848, and took an active part in it. He then returned to Philadelphia, and after being admitted to the bar in 1851, devoted himself to contributing to periodicals, editing various magazines and writing books.  
At the opening of the Civil War he started at Boston the Continental Magazine, which advocated emancipation. In 1868 he became known as the humorous author of Hans Breitmann's Party and Ballads, which was followed by other volumes of the same kind, collected in 1871 with the title of Hans Breitniainrfs Ballads. These dialect poems, burlesquing the German American, at once became popular.  
In 1869 he went to Europe, and till 1880 was occupied, chiefly in London, with literary work; after returning to Philadelphia for six years, he again made his home in Europe, generally at Florence, where he died on the 20th of March 1903.  
Though his humorous verses were most attractive to the public, Leland was a serious student of folk-lore, particularly of the gipsies, his Writings on the latter (English Gypsies and their Language, 1872; The Gypsies, 1882; Gypsy Sorcery and Fortunetelling 1891, &c.) being recognized as valuable contributions to the literature of the subject. He was president of the first European folk-lore congress, held in Paris in 1889. 
His other publications include Poetry and Mystery of Dreams (1855), Meister Karl's Sketch-book (1855), Pictures of Travel (1856), Sunshine in Thought (1862), Heine's Book of Songs (1862), The Music Lesson of Confucius (1870), Egyptian Sketch-book (1873), Abraham Lincoln (1879), The Minor Arts (1880), Algonquin Legends of New England (1884), Songs of the Sea and Lays of the Land (1895), Hans Breitmann in Tyrol (1895), One Hundred Profitable Acts (1897), Unpublished Legends of Vergil (1899) and Kulosleap the Master, and other Algonquin Poems (1903, with J. Dyneley Prince) 
- A Biography from 1911 Encyclopædia Britannica, Volume 16
Books of Charles G. Leland