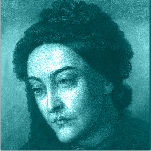 5 December 1830 – 29 December 1894
Christina Georgina Rossetti was born on 5th December 1830, at 38 Charlotte Street, London. She was an English poet who wrote a variety of romantic, devotional and children's poems – best known for her works Goblin Market, Remember, and the Christmas carol, In the Bleak Midwinter.
Rossetti was the daughter of  Gabriele Rossetti, a poet and a political exile from Vasto, Abruzzo, and Frances Polidori, the sister of Lord Byron's friend and physician, John William Polidori. She had two brothers and a sister (Dante, William, and Maria), all of whom grew up to become fellow writers and artists.
Christina was a lively and intelligent child, and was educated at home by her mother and father. They gave her religious works, classics, fairy tales and novels to study – and Rosetti delighted in the works of Keats, Scott, Ann Radcliffe and Matthew Lewis. The influence of the work of Dante Alighieri, Petrarch and other Italian writers filled the home, and would have a deep impact on Rossetti's later writing.
In the 1840s, her family faced severe financial difficulties due to the deterioration of her father's physical and mental health. In 1843, he was diagnosed with persistent bronchitis, possibly tuberculosis, and faced losing his sight. He gave up his teaching post at King's College and though he lived another eleven years, suffered from depression and never fully recovered. As a result of this tension, when she was fourteen, Rosetti suffered a nervous breakdown and left school. Bouts of depression and related illness followed.
It was during this period that Rossetti, her mother and her sister became deeply interested in the teachings of the Church of England – and religious devotion came to play a major part in Rossetti's life.
In her late teens, Rossetti became engaged to the painter James Collinson, the first of three suitors. He was, like her brothers Dante and William, one of the founding members of the avant-garde artistic group, the Pre-Raphaelite Brotherhood (founded in 1848). The engagement was broken in 1850 when he reverted to Catholicism. Later she became involved with the linguist Charles Cayley, but declined to marry him, also for religious reasons. The third offer came from the painter John Brett, whom she also refused.
Rossetti published her first two poems ('Death's Chill Between' and 'Heart's Chill Between'), which appeared in the Athenaeum, in 1848 – at the age of eighteen. Her most famous collection, Goblin Market and Other Poems, appeared in 1862, when she was thirty-one. It received widespread critical praise, establishing her as the foremost female poet of the time.
Although it is ostensibly about two sisters' misadventures with goblins, critics have interpreted the piece in a variety of ways: seeing it as an allegory about temptation and salvation; a commentary on Victorian gender roles and female agency; and a work about erotic desire and social redemption. Rossetti was a volunteer worker from 1859 to 1870 at the St. Mary Magdalene 'house of charity' in Highgate, a refuge for former prostitutes and it is suggested Goblin Market may have been inspired by the 'fallen women' she came to know. There are also parallels with Coleridge's The Rime of the Ancient Mariner given both poems' religious themes of temptation, sin and redemption by vicarious suffering.
Rossetti maintained a very large circle of friends and correspondents and continued to write and publish for the rest of her life, primarily focusing on devotional writing and children's poetry. In 1892, Rossetti wrote The Face of the Deep, a book of devotional prose, and oversaw the production of a new and enlarged edition of Sing-Song, published in 1893.
In the later decades of her life, Rossetti suffered badly from Graves Disease. She had been diagnosed in 1872, suffering a nearly fatal attack in the early 1870s. In 1893, she developed breast cancer and though the tumour was removed, she suffered a recurrence in September 1894.
Rossetti died in Bloomsbury, London, on 29th December 1894, at the age of sixty-four. She is buried in Highgate Cemetery.
Books of Christina Rossetti