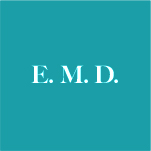 9 June 1890 – 2 December 1943
Edmée Elizabeth Monica Dashwood was born in Steyning, England in 1890.
In 1911, aged twenty-one, she joined a French religious order in Belgium, penning an account of her experience, The Brides of Heaven, which would eventually be published in her biography.  At the outbreak of World War I, she worked as a voluntary nurse, publishing her first novel, Zella Sees Herself, in 1917.
Delafield wrote for the rest of her life, publishing a novel almost every year, but she is best-remembered for her Diary of a Provincial Lady, (1930), which was hugely popular with readers and has since never been out of print.  As well as a number of sequels to the novel, Delafield also published short stories and a handful of plays, and was an authority on the Brontës.
She died during World War II, aged 53.