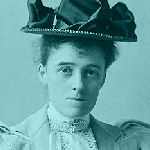 January 24 1862 – August 11 1937
Edith Wharton was born in New York City in 1862. Her family were extremely wealthy, and during her youth she was provided private tuition and traveled extensively in Europe. A voracious reader, Wharton studied literature, philosophy, science, and art, and began to write poetry and short fiction. In 1885, aged 23, Edith married a banker, Edward Robbins, and for the next few years they traveled extensively together. Living near Central Park in New York, Wharton's first poems were published in Scribner's Magazine. In 1891, the same publication printed the first of her many short stories, titled 'Mrs. Manstey's View'. Over the next four decades, they – along with other well-established American publications such as Atlantic Monthly, Century Magazine, Harper's and Lippincott's – regularly published her work.
A lifelong keen architect, in 1902 Wharton designed and built her home, The Mount, in Lenox, Massachusetts. It was while living here that she wrote many of her works, including the 1905 novel The House of Mirth, which was that year's bestseller, and is now considered a classic of American literary Naturalism. In the period leading up to the First World War, Wharton wrote prolifically, and in 1921 she received the Pulitzer Prize – the first ever woman to do so – for her novel The Age of Innocence. Like much of her work, the novel examines the tension between societal pressures and the pursuit of genuine happiness, and includes careful use of dramatic irony.
Edith Wharton died of a stroke in 1937, aged 75. In addition to her novels, she is remembered for her short fiction, especially her excellent ghost stories.