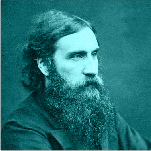 10 December 1824 – 18 September 1905
George MacDonald was born at Huntly, Scotland in 1824. He was educated in various country schools, where he would have been immersed in Gaelic myths and Old Testament stories. MacDonald went on to Aberdeen University in the early 1840s, obtaining awards in Moral Philosophy and Sciences, before studying for the Congregationalist ministry at Highbury College, London.
In 1850, MacDonald was made pastor at Arundel, West Sussex, England. However, he resigned after three years of not living up to the congregational authorities' expectations of dogmatic sermons. In 1851, he married, and began to tutor and write to provide for his ever-growing family. He also preached freelance.
MacDonald began to publish poetry in the mid 1850s. Some of his early works were Within and Without (1855) and Poems (1857). In 1858 he published Phantastes (1858), his best-known work. A fantasy novel influenced by German Romanticism, C. S. Lewis later cited it as one of the most influential books he had ever read.  MacDonald found further success with Scottish country life stories such as David Elginbrod (1862), Alec Forbes (1865) and Robert Falconer (1868).
The 1870s brought an invitation for MacDonald to tour and lecture in America. He was well-received by huge audiences and by writers such as Ralph Waldo Emerson. A well-paid ministerial position was offered him but he chose to return to England. In 1877, he received a civil list pension. The ill-health that had plagued MacDonald the greater part of his life forced him to seek the warmer climates of Europe, and he spent most of the years from 1881 to 1902 in Bordighera, Italy.
After his long illness, MacDonald died in 1905, aged 80. Other successful works published towards the end of his life were At the Back of the North Wind (1871), The Princess and the Goblin (1885) and its sequel The Princess and Curdie (1883). MacDonald's work has been cited as a heavy influence by many writers, including W. H. Auden and J. R. R. Tolkien.
Books of George MacDonald