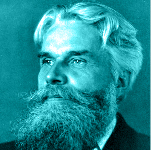 2 February 1859 – 8 July 1939
Havelock Ellis was born in Croydon, London, England, February 2, 1859. He was a physician, writer and social reformer whose primary interest was in human sexuality and orientation.
The son of Edward Peppen Ellis and Susannah Mary Wheatley, Havelock spent much of his early childhood travelling with his father, who was a sea captain. During one journey Havelock would visit Sydney, Callao and Antwerp. After returning to the United Kingdom, Havelock was educated at French and German College near Wimbledon, as well as at a school in Mitcham.
Upon leaving school, Havelock would continue his travels and sailed on his father's ship to Australia. He arrived in Sydney, taking a position as a master in a private school, a position for which he had no training. The school, on discovering this fact, fired him and he took a job working for a family as a private tutor.
His career was stop-start, but eventually he found a position in charge of two elementary schools in New South Wales, where he would settle and write an autobiography. It was during this time that he engaged in profound reflection on his career and was inspired, in part by the solitude of the mountains in New South Wales, to begin a new career as a writer, studying sexuality.
After returning to England in 1879 he started on his path to studying human sexuality, and qualified as a physician. He studied first at St Thomas's Hospital Medical School, now Kings College, London, which he paid for through his work as an editor of the Mermaid Series of Jacobean drama.
It wasn't long before Havelock entered into the social circles of prominent English reformers. He would become a close associate of George Bernard Shaw and Edward Carpenter, among others. It was at this time that he published his first work, Sexual Inversion (1897), the first medical textbook on homosexuality, and one penned alongside prominent historian and social critic John Addignton Symonds.
The text was noted for its objective analysis of homosexuality, treating it neither as disease, immoral choice or crime and described the details of homosexual relationships in London, England at the time. Many of the studies included in his book were between men and young boys, scenes, which many today would consider child abuse.
It is difficult to overstate the effect that Ellis' work had on later studies of sexuality both in the form of psychoanalysis and as a social phenomenon worthy of study itself. He coined the phrases narcissism and autoerotism, themes that would be placed centre stage in the works of Sigmund Freud.
Ellis was first among his contemporaries to describe in detail the lives and relationships of transgendered people, a typology he called eonism. Ellis attributed the characteristic to a transference of identity from subject to object and described it in terms that would not seem alien to psychoanalysts today. To Ellis, transgendered identities were one's in limbo between two stages of sexual development: heterosexuality and homosexuality.
Ellis was a prominent eugenicist and served as vice president of the Eugenics Education Society. He married the prominent women's rights activist, Edith Lees, who lived openly as a lesbian in separate accommodation to Ellis and whose relationship would become the central theme of his later autobiography, My Life (1939). By his death on July 8, 1939 Ellis had written over 45 texts on sex, philosophy, social theory and literature, making him one of the most prolific social commentators of the early Twentieth Century.