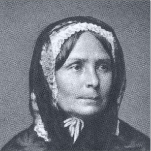 14 October 1797 – 27 October 1858
A German traveller, born in Vienna, Oct. 15, 1797, died there, Oct. 27, 1858. Her maiden name was Reyer.
The extended journeys through which she became celebrated did not begin until she reached the age of 44, when, having been for some years separated from her husband, her two sons being established in life, and a sufficient sum having accumulated from her careful savings, she gratified her long cherished desire for travel by making a journey to Palestine in 1842, returning through Italy during the same year. In 1845 she visited Norway, Lapland, and Iceland.
In June, 1846, she sailed from Hamburg on a voyage round the world, in company with Count Berchthold, from whom she subsequently parted. Disappointed in an attempt to cross South America, she continued her journey from Rio de Janeiro by water, touching at various points, crossing from Valparaiso to Macao, and stopping at Tahiti. From China she went to Calcutta, and thence across India and Persia, and completed her journey by visiting the Black sea, Turkey, and Greece.
Aided by the Austrian government, she again embarked in the spring of 1851, and from London proceeded to the Cape of Good Hope, intending to visit the interior of Africa; but, deterred by the great cost of the undertaking, she went on to the East Indian islands, and thence across the Pacific to California.
After travelling in South America, she visited the United States and Canada in 1854, and sailed for Liverpool in November. Her subsequent journeys were to the Azores in 1855, and to Madagascar in 1856-'7. Here she arrived in company with a Frenchman, who was soon arrested for a conspiracy to dethrone the queen, and was ordered with his companion to leave the island.
Mme. Pfeiffer's death was caused by a malarial fever contracted in Madagascar.
She wrote Reise einer Wienerin in das Heilige Land ("Journey of a Vienna Woman in the Holy Land," 2 vols., Vienna, 1843); Reise nach dem skandinavischen Norden und der Insel Island (Pesth, 1846; English translation, "Journey to Iceland, Sweden, and Norway," London, 1852); Eine Frauenfahrt um die Welt (3 vols., Vienna, 1850; English, "A Woman's Journey round the World," London, 1854); and Zweite Weltreise (Vienna, 1856; English, "Second Journey round the World," London, 1857.)
A Biography from The American Cyclopædia, 1879