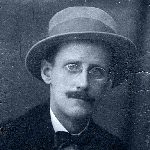 2 February 1882 – 13 January 1941
James Joyce was born in Dublin, Ireland in 1882. He excelled as a student at the Jesuit schools Clongowes and Belvedere, and then at University College Dublin, where he studied English, French, and Italian. Upon graduating, Joyce visited Paris, before returning to Dublin due to the death of his mother. In August of 1904, he published his first short story, 'The Sisters,' in the Irish Homestead Journal. In October of that same year, he eloped to the continent with his new wife, Nora Barnacle.
The couple spent time in Zurich and Pola (today part of Croatia), before Joyce secured a job teaching English in Trieste, Italy. They remained here for most of the next ten years. Joyce wrote and published articles in Italian in the local newspaper Piccolo della Sera, and continued to work on his English-language fiction. 1914 proved an important year for him; A Portrait of the Artist as a Young Man, Joyce's first novel, began to appear in serial form in Harriet Weaver's Egoist, and his collection of short stories, Dubliners, was published. With the onset of World War I, Joyce was able to turn to the novel he had been toying with since 1907: Ulysses.
After the war, the modernist poet Ezra Pound persuaded Joyce to come to Paris. His wartime publications had provided him with some fame as an avant-garde writer, as well as a degree of financial security, and he was now able to focus fully on Ulysses.  Upon its completion, the American journal The Little Review began to serialize it, but this came to a halt in 1921 when a court banned the work as obscene. Following a similar reaction in England, Joyce was only able to publish Ulysses with the help of Sylvia Beach, an American expatriate living in Paris who owned and ran the bookshop Shakespeare & Co. The novel appeared in February of 1922, and is now regarded as one of the most important works of Modernist literature, and one of the most groundbreaking English language works of all time.
Joyce's last and perhaps most challenging novel, Finnegans Wake, was published in 1939. A year later, with the prospect of a Nazi invasion looming, he fled to the south of France, before dying in 1941, at the age of 59.