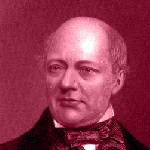 17 August 1801 – 6 March 1875
John Timbs was an author. He was born on 17 Aug. 1801 in Clerkenwell, and was educated at a private school at Hemel Hempstead.
He was apprenticed to a printer and druggist at Dorking, and while there began to write, his first contributions appearing in the Monthly Magazine in 1820. About that year he came to London, and was for some time amanuensis to Sir Richard Phillips, publisher of the magazine. From that time he contributed to a large number of London publications, but chiefly to the Mirror of Literature, which he edited from 1827 to 1838; the Harlequin, which appeared between 11 May and 16 July 1829, and which was stopped by the commissioners of stamps insisting that it should be stamped as a newspaper; the Literary World, which he edited during 1839 and 1840; and the Illustrated London News, of which he was sub-editor under Dr. Charles Mackay from 1842 to 1858. He was also the originator and editor of the Year Book of Science and Art, begun in 1839 after he left the Mirror.
His works, which run to over a hundred and fifty volumes, are compilations of interesting facts gathered from every conceivable quarter, and relating to the most varied subjects. In recognition of his antiquarian labours he was elected a fellow of the Society of Antiquaries in 1854. He died in considerable poverty in London on 6 March 1875.
 - A Biography by James Ramsay MacDonald,
Dictionary of National Biography, 1885-1900, Volume 56