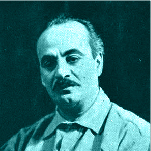 6 January 1883 - 10 April 1931
Gibran Khalil Gibran was born on 6th January, 1883, in the historical town of Bsharri, in northern Mount Lebanon, then a semi-autonomous part of the Ottoman Empire.
Due to his family's poverty, Gibran had no formal education in his early years except for the Maronite Catholic priests who would visit to teach him about the bible, as well as the Arabic and Syriac languages. His father, who was his mother's third husband, was not a financially successful man, and after racking up gambling debts, was forced to take a position as a local administrator. However, in 1891, he was imprisoned for embezzlement and his family's property was confiscated. This prompted Gibran's mother to leave his father and migrate to the United States with her children in 1895.
They settled in the second-largest Syrian-Lebanese-American community, in Boston's South End, where young Kahlil, enrolled at an art school in a nearby settlement house. He was taken under the wing of the avant-garde artist, photographer, and publisher Fred Holland Day, who encouraged Kahlil's creative flare.
In 1904 he held the first exhibition of his drawings at Day's studio. During the exhibition, he met a respected headmistress ten years his senior, named Mary Elizabeth Haskell, who went on to become his editor. The two of them were well-known to be great friends, but it later emerged that in private they were lovers. In fact, Gibran twice proposed to her but marriage was not possible in the face of her family's conservatism.
Gibran's early works of poetry were in Arabic, but after  1918 he decided to write mainly in English. It was in 1918 that the Alfred A. Knopf publishing company published The Madman, a slim volume of aphorisms and parables written in biblical cadence somewhere between poetry and prose. This style brought him great success with his 1923 work The Prophet. Although it received a cool reception when first published, its notoriety grew and it is now his most famous work, never having been out of print and translated into more than forty languages. In Lebanon, Gibran is still celebrated as a literary hero, which is not surprising as he is actually the third best-selling poet of all time, behind only Shakespeare and Lao-Tzu.
Gibran died at the age of 48 in 1931 from cirrhosis of the liver and tuberculosis. The following year Mary Haskell and her sister Mariana purchased the Mar Sarkis Monastery in Lebanon in which he was buried. This is now the Gibran Museum. Written next to Gibran's grave are the words
"A word I want to see written on my grave:
I am alive like you, and I am standing beside you.
Close your eyes and look around, you will see me in front of you."