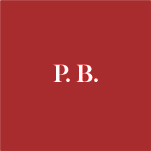 17 March 1777 – 7 June 1861
English novelists, Charlotte, Emily and Anne Brontë were three of the six children of Patrick Brontë, a clergyman of the Church of England, who for the last forty-one years of his life was perpetual incumbent of the parish of Haworth in the West Riding of Yorkshire.
Patrick Brontë was born at Emsdale, Co. Down, Ireland, on the 17th of March 1777. His parents were of the peasant class, their original name of Brunty apparently having been changed by their son on his entry at St John's College, Cambridge, in 1802. In the intervening years he had been successively a weaver and schoolmaster in his native country. From Cambridge he became a curate, first at Wethersfield in Essex, in 1806, then for a few months at Wellington, Salop, in 1809. At the end of 1809 he accepted a curacy at Dewsbury, Yorkshire, following up this by one at Hartshead-cum-Clifton in the same county. At Hartshead Patrick Brontë married in 1812 Maria Branwell, a Cornishwoman, and there two children were born to him, Maria (1813-1825) and Elizabeth (1814-1825). Thence Patrick Brontë removed to Thornton, some 3 m. from Bradford, and here his wife gave birth to four children, Charlotte, Patrick Branwell (1817-1848), Emily Jane, and Anne, three of whom were to attain literary distinction.
In April 1820, three months after the birth of Anne Brontë, Patrick accepted the living of Haworth, a village near Keighley in Yorkshire, which will always be associated with the romantic story of the Brontës. In September of the following year his wife died. Maria Brontë lives for us in her daughter's biography only as the writer of certain letters to her "dear saucy Pat," as she calls her lover, and as the author of a recently published manuscript, an essay entitled The Advantages of Poverty in Religious Concerns, full of a sententiousness much affected at the time.
Upon the death of Mrs Brontë, Patrick invited his sister-in-law, Elizabeth Branwell, to leave Penzance and to take up her residence with his family at Haworth. Miss Branwell accepted the trust and would seem to have watched over her nephew and five nieces with conscientious care. The two eldest of those nieces were not long in following their mother. Maria and Elizabeth, Charlotte and Emily, were all sent to the Clergy Daughters' school at Cowan Bridge in 1824, and Maria and Elizabeth returned home in the following year to die.
Miss Branwell died on the 29th of October 1842. She bequeathed sufficient money to her nieces to enable them to reconsider their plan of life. Instead of a school at Bridlington which had been talked of, they could now remain with their father, utilize their aunt's room as a classroom, and take pupils. In 1844 Charlotte returned to her father's house at Haworth, and the three sisters began immediately to discuss the possibilities of converting the vicarage into a school. Prospectuses were issued, but no pupils were forthcoming.
Matters were complicated by the fact that the only brother, Patrick Branwell, had about this time become a confirmed drunkard. Finally he returned to Haworth to loaf at the village inn, shock his sisters by his excesses, and to fritter his life away in painful sottishness. He died in September 1848, having achieved nothing reputable, and having disappointed all the hopes that had been centred in him. "My poor father naturally thought more of his only son than of his daughters," is one of Charlotte's dreary comments on the tragedy.
Meanwhile the novels of Emily and Anne had been accepted by T. C. Newby. They were published together in three volumes in December 1847, two months later than Jane Eyre, although the proof sheets had been passed by the authors before their sister's novel had been sent to the publishers. The dilatoriness of Mr Newby was followed up by considerable energy when he saw the possibility of the novels by Ellis and Acton Bell sailing on the wave of Currer Bell's popularity, and he would seem very quickly to have accepted another manuscript by Anne Brontë, for The Tenant of Wildfell Hall was published by Newby in three volumes in June 1848. It was Newby's clever efforts to persuade the public that the books he published were by the author of Jane Eyre that led Charlotte and Anne to visit London this summer and interview Charlotte's publishers in Cornhill with a view to establishing their separate identity. Soon after their return home Branwell died (the 24th of September 1848), and less than three months later Emily died also at Haworth (the 19th December 1848). Then Anne became ill and on the 24th of May 1849 Charlotte accompanied her to Scarborough in the hope that the sea air would revive her. Anne died there on the 28th of May, and was buried in Scarborough churchyard. Thus in exactly eight months Charlotte Brontë lost all the three companions of her youth, and returned to sustain her father, fast becoming blind, in the now desolate home at Haworth.
In September of that year Charlotte received a visit from Mrs Gaskell at Haworth; in May 1854 she returned it, remaining three days at Manchester, and planning with her hostess the details of her marriage, for at this time she had promised to unite herself with her father's curate, Arthur Bell Nicholls (1817-1906), who had long been a pertinacious suitor for her hand but had been discouraged by Mr Brontë. The marriage took place in Haworth church on the 29th of June 1854, the ceremony being performed by the Rev. Sutcliffe Sowden, Miss Wooler and Miss Nussey acting as witnesses. The wedded pair spent their honeymoon in Ireland, returning to Haworth, where they made their home with Mr Brontë, Mr Nicholls having pledged himself to continue in his position as curate to his father-in-law. After less than a year of married life, however, Charlotte Nicholls died of an illness incidental to childbirth, on the 31st of March 1855. She was buried in Haworth church by the side of her mother, Branwell and Emily. Patrick followed in 1861, and then her husband returned to Ireland, where he remained some years afterwards, dying in 1906.
-A Biography from
Encyclopædia Britannica, Volume 4, 1911