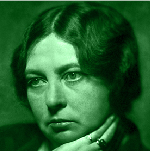 20 May 1882 – 10 June 1949
Sigrid Undset was born on 20th May 1882. She was a Norwegian novelist who was awarded the Nobel Prize for Literature in 1928.
Unset was born in the small town of Kalundborg, Denmark, at the childhood home of her mother, Charlotte Undset (née Anna Maria Charlotte Gyth). The family moved to Norway when she was two years old however, and Undset grew up in the Norwegian capital, Oslo. When she was eleven years old, her father, the Norwegian archaeologist Ingvald Martin Undset, died at the age of forty after a long illness. The family's economic situation meant that Undset had to give up hope of a university education and after a one-year secretarial course she obtained work as a secretary with an engineering company in Kristiania, a post she was to hold for the next ten years.
While employed at office work, Sigrid Undset wrote and studied. She was sixteen years old when she made her first attempt at writing a novel set in the Nordic Middle Ages. The manuscript, a historical novel set in medieval Denmark, was ready by the time she was twenty-two. It was turned down by the local publishing house however. All the same, two years later she had completed another manuscript; much less voluminous this time, only eighty pages long. She had put aside the Middle Ages, and had instead produced a realistic description of a woman with a middle-class background in contemporary Kristiania. This book was also refused by the publishers at first, but it was subsequently accepted. The title was Fru Marta Oulie, and the opening sentence (the words of the book's main character) scandalised readers: 'I have been unfaithful to my husband.'
Thus, at the age of twenty-five, Sigrid Undset made her literary debut with a short realistic novel on adultery, set against a contemporary background. It created quite a stir, and she found herself ranked as one of the most promising authors in Norway. During the years up to 1919, Undset published a number of novels set in contemporary Kristiania. This realistic period culminated in the novels Jenny (1911) and Vaaren (1914). Undset's books sold well from the start, and after the publication of her third novel, she left her office job and prepared to live on her income as a writer. Having been granted a writer's scholarship, she set out on a lengthy journey in Europe. After short stops in Denmark and Germany, she continued to Italy, arriving in Rome in December 1909, where she remained for nine months.
In Rome, Undset met Anders Castus Svarstad, a Norwegian painter, whom she married in 1912. Svarstad already had a wife and three children in Norway however, and it was nearly three years before Svarstad got his divorce from his first wife. Svarstad and Undset had two children together, one boy and a girl. Despite the considerable constraints of motherhood (Undset also looked after Svarstad's three children from his previous marriage), Undset continued writing during this period, as well as publically debating on topical themes such as women's emancipation. She had considerable polemical gifts, and was critical of emancipation as it was developing, and of the moral and ethical decline she felt was threatening in the wake of the First World War.
After the birth of her third child (another boy), she started on a major project: Kristin Lavransdatter (a historical literary novel, set in the Middle Ages – published in 1920). It was only after the end of her marriage (which broke down in 1919) that Undset was able to write this masterpiece. In the years between 1920 and 1927, she published the three-volume Kristin, and then the four-volume Olav (Audunssøn), swiftly translated into English as The Master of Hestviken. It was for these two works that she was awarded the Nobel Prize for Literature, in 1928. During this time Undset also converted to Roman Catholicism, and was received into the Church after instruction from her local priest. After this intensely productive period, Undset slowed her creative output, and completed a set of novels set in contemporary Oslo in 1929, an autobiographical work (Eleven Years Old) in 1934 and a new historical novel, Madame Dorthea in 1939.
Undset never completed Madame Dorthea however, as when Germany invaded Norway in April 1940, she was forced to flee. She had strongly criticised Hitler since the early 1930s, and from an early date her books were banned in Nazi Germany. Her eldest son, Anders Svarstad, was killed in action at the age of twenty-seven – on 27th April 1940, only a few kilometres from their home at Bjerkebæk. Undset's daughter died from illness just before the outbreak of the war. In 1940, Sigrid Undset and her younger son left neutral Sweden for the United States. There, living in Brooklyn Heights, New York, she untiringly pleaded her occupied country's cause and that of Europe's Jews, in writings, speeches and interviews.
Undset returned to Norway after the liberation in 1945, exhausted. She lived another four years, but never wrote another word. She died on 10th June 1949, aged sixty-seven in Lillehammer, Norway, where she had lived from 1919 through to 1940. She was buried in the village of Mesnali, 15 kilometres east of Lillehammer, where her deceased son and daughter were also remembered. The grave is recognizable by three black crosses.