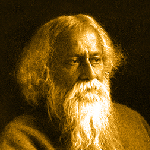 7 May 1861 - 7 August 1941
Rabindranath Thakur, anglicised to Tagore, was born on 7 May, 1861 to a wealthy family based in Calcutta, British India. Tagore composed beautiful songs, wrote elegant poems, novels and plays, created celebrated artworks and was a life-long political advocate of equality and freedom. He consequently denounced the Raj and British control of Indian life, inspirationally changing his region's politics, literature and music.
Gitanjali (Song Offerings), Gora (Fair-Faced), and Ghare-Baire (The Home and the World) are his best-known works, acclaimed for their contemplative nature mixed with an unflinching naturalism. Two of his compositions were chosen by India and Bangladesh as their national anthems.
His legacy also endures in Visva-Bharati University; the establishment which Tagore founded himself. Tagore is still little known outside Bengal, however his profound, if smaller than deserved, reception has helped to introduce the best of Indian culture to the West and vice versa.
Tagore started writing poetry when he was just eight years old, and released his first substantial collection of poems, The Songs of Bhanushingho Thakur, at the age of sixteen. These were published under the pseudonym Bhānusiṃha (Sun Lion) and were immediately seized upon by the literary authorities; hailed as long-lost classics. However due to his father's wishes for Tagore to become a Barrister, he moved to England at the age of sixteen and enrolled at a public school in Brighton. He briefly read law at University College London, but left to independently study the literature of Shakespeare, especially Coriolanus and Anthony and Cleopatra.
The young man was impressed by the lively English, Irish and Scottish folk tunes, and he returned to Bengal in 1880, resolving to reconcile European and Brahmin traditions.
In 1883 he married Mrinalini Devi, with whom he had five children. From 1890 onwards, Tagore managed his vast ancestral estates in Shelaida, and it was here that he released his Manasi poems (1890), probably his best known work. The period 1891-1895 was his most productive, and it was during this time that Tagore wrote more than half of the 84 story long Galpaguchchha. This collection revealed the poverty and suffering in an otherwise idealised rural Bengal.
In 1901, Tagore moved to Santiniketan to found an ashram (a place of spiritual hermitage), it had an experimental school attached, beautiful groves of trees, substantial gardens and a well-stocked library. During his time at Santiniketan, Tagore's wife and two of his children died. However he kept up his campaigns for social justice in the Indian provinces, as well as maintaining his prolific writing career. Tagore also kept composing, amassing a massive 2,230 songs to his credit. He became the first non-European to win the Nobel Prize for Literature in 1913, for his Gitanjali: Song Offerings. Two years after this accolade, Tagore was knighted by George V, however he repudiated this award in 1919, after the outrages of the Jallianwala Bagh Massacre. He asserted that 'the time has come when badges of honour make our shame glaring in the incongruous context of humiliation, and I for my part, wish to stand, shorn, of all special distinctions, by the side of those of my countrymen who, for their so called insignificance, are liable to suffer degradation not fit for human beings.'
As a result of his extensive travels, Tagore felt affirmed in his opposition to societal divisions and continued reflecting on such themes in his later works Chitra (1914), Dui Bon (1933) and Patraput (1936). Tagore died at the age of 80, in Calcutta, the place of his birth, on 7 August, 1941.
Books of Sir Rabindranath Tagore