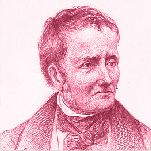 15 August 1785 – 8 December 1859
Thomas De Quincey was born in Manchester, England in 1785. A precocious and restless child, De Quincey was in line for a scholarship to Brasenose College, University of Oxford, but left Manchester Grammar School before completing his studies.
Originally intending to visit William Wordsworth, whose poetry had consoled him during fits of depression, he drifted for a while, choosing to live in squalor and poverty in London rather than return to his family. Discovered by chance by a friend, De Quincey returned to Oxford, but left without graduating again, moving to the lake district to be near Wordsworth, whom he was now acquainted with.
De Quincey turned his hand to journalism, and by July of 1818 was editor of the Westmorland Gazette, a publication in line with De Quincey's firm right-of-centre sympathies. He resigned after a year, and went to London to work as a translator. However, he was persuaded to first write an account of his experiences with opium – a substance De Quincey had been acquainted with for most of his adult life. Confessions of an English Opium-Eater (1821) was a sensation, and kick-started his best literary phase. He began to contribute to a number of periodicals of the day, including Blackwood's Edinburgh Magazine and its rival Taits Magazines. A number of De Quincey's other well-known works – such as Suspiria de Profundis (1845) and The English Mail-Coach (1849) – were serialized in these two publications, as were his reminiscences of Wordsworth and his other literary acquaintances.
De Quincey died in Edinburgh in 1859, after which multi-volume collections of his voluminous writings began to appear. He has since been cited as a major influence on writers as varied as Edgar Allen Poe, Charles Baudelaire, Nikolai Gogol and Jorge Luis Borges.