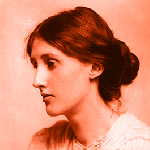 25 January 1882 – 28 March 1941
Biography
Virginia Woolf was born Adeline Virginia Stephen in Kensington, London, England in 1882. Her father, Leslie Stephen, was a respected man of letters, and as a young girl Woolf was introduced to many literary figures, including Henry James. Woolf also made great use of the family home's vast library, working her way through much of the English literary canon as a teenager. Her summers were spent in St. Ives, Cornwall, which would later form the setting for her famous novel, To the Lighthouse.
In 1895, when Woolf was just thirteen, her mother died, triggering the first of her many mental breakdowns. Despite this, between 1897 and 1901 she was able to take courses in Greek, Latin, German and history at the Ladies' Department of King's College London. She even began publishing work with the Times Literary Supplement. However, in 1904, following the death of her father, Woolf suffered another breakdown which saw her briefly institutionalised.
Following her discharge, Woolf and her sisters moved from their family home to a new abode in Bloomsbury. It was here that Woolf met Lytton Strachey, John Maynard Keynes, E. M. Forster and various other writers and intellectuals, who together would form the famous Bloomsbury Set. In 1912, Woolf married author Leonard Woolf, who nursed her through another breakdown and suicide attempt. Woolf published her first novel, The Voyage Out, in 1915. This, as well as various essays, quickly established her as a major public intellectual.
During the twenties, Woolf published the novels that established her as a leading figure of modernism and one of the greatest British novelists of the 20th century: Jacob's Room (1922), Mrs. Dalloway (1925), To the Lighthouse (1927) and Orlando (1928). Stylistically, Woolf experimented with a lyrical stream-of-consciousness narrative mode, and is now considered – along with fellow modernist James Joyce – one of the finest innovators in the English language. Her work has been translated into fifty languages, and her major novels have never been out of print.
After completing her last novel, Between the Acts, Woolf fell into a period of deep depression – exacerbated by the the onset of World War II and the destruction of her home during the Blitz. In 1941, fearing a total mental collapse, Woolf committed suicide. She was 59 years old.