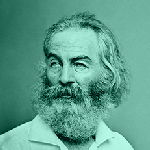 May 31 1819 – March 26 1892
Walt Whitman was born on 31st May 1819 in the Town of Huntington, Long Island, New York, USA.  He was the second of nine children of Walter Whitman and Louisa Van Velsor Whitman. In part due to a series of bad investments, the family lived in various homes in the Brooklyn area, and Whitman recalled his childhood as generally restless and unhappy, given his family's difficult economic status.
Whitman finished his formal schooling at age eleven, and immediately sought employment to aid his family. He worked in an office of a legal firm and later as an apprentice and printer's devil for the weekly Long Island newspaper, the Patriot. The following summer, Whitman took a job with the leading Whig newspaper the Long-Island Star, and it was here that he developed a strong interest in reading, writing and theatre. He also anonymously published some of his earliest poetry in the New York Mirror.
After a brief sojourn as a teacher, living back with his family in Long Island, Whitman returned to New York to establish his own newspaper; the Long Islander. He embarked on this project in the spring of 1838, but sold the paper to E.O. Crowell after only ten months. From 1840-41 Whitman attempted to further his career in teaching, but with little success, he returned to writing. During this time, Whitman published a series of ten editorials, called Sun-Down Papers—From the Desk of a Schoolmaster, in three newspapers between the winter of 1840 and July 1841. In these essays, he adopted a constructed persona, a technique he would employ throughout his career. It was not until 1850 that Whitman began writing what would later become Leaves of Grass; a collection of poetry which he continued editing and revising until his death. The first edition was a success, and stirred up significant interest, partly due to the praise it received by Ralph Waldo Emerson. However the volume, which Whitman intended as 'a distinctly American epic', attracted substantial criticism for its 'offensive' and 'crude' sexual themes. It deviated from the historic use of an elevated hero and instead assumed the identity of the common person; part of the transition in American literature, moving away from transcendentalism towards realism. In light of the contemporary criticism, Whitman's sexuality is often discussed alongside his poetry. Though biographers continue to debate his sexuality, he is usually described as either homosexual or bisexual - yet this remains speculation.
Whitman lived through the American Civil war, and volunteered as a nurse in army hospital, later serving as a clerk in the Bureau of Indian Affairs in the Department of the Interior. In June of 1865, Whitman was fired from his job – most likely on moral grounds, by the former Iowa Senator James Harlan, after he found an 1860 edition of Leaves of Grass. Whitman's friend William Douglas O'Connor, a well-connected poet and newspaper editor was incensed by this iniquitousness, and wrote a pamphlet defending Whitman as a wholesome patriot, greatly increasing his popularity.
Further adding to Whitman's fame during this period was the publication of O Captain! My Captain!; a relatively conventional poem chronicling the death of Abraham Lincoln. It was the only poem to appear in anthologies during Whitman's lifetime. The author then moved onto work at the Attorney General's office, interviewing former Confederate soldiers for Presidential Pardons - an occupation which was more to Whitman's taste. He later wrote to a friend; 'there are real characters among them . . . and you know I have a fancy for anything out of the ordinary.' During this time, Whitman succeeded in finding a publisher for Leaves of Grass (eventually issued in 1871), the same year it was mistakenly reported that its author died in a railroad accident.
Only two years after this great personal success, Whitman suffered a paralytic stroke (early in 1873) and was induced to move to the home of his brother in New Jersey. Whilst there, he was very productive, publishing three versions of Leaves of Grass, as well as other works. This was also the last point at which Whitman was fully mobile, and he received many famous authors, including Oscar Wilde and Thomas Eakins. In 1884, he bought his own house, remaining in New Jersey, but became completely bedridden soon after. In the last week of his life, Whitman was too weak even to lift a knife or fork, and wrote; 'I suffer all the time: I have no relief, no escape: it is monotony—monotony—monotony—in pain.' He died from diminished lung capacity, the result of bronchial pneumonia and an abscess on the chest, on 26 March 1892.
By the time of his death, Whitman had become a veritable national celebrity, and a public viewing of his body was held at his home; an event which attracted over one thousand people in three hours. His coffin was barely visible because of all the flowers and wreaths. Whitman was buried four days later at Harleigh Cemetery in Camden, New Jersey. He has since been eulogised as America's first 'poet of democracy', due to his uncanny ability to write in the American character, and remains an enduring and much loved literary figure to this day.