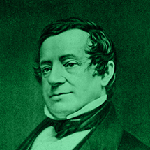 April 3 1783 – November 28 1859
Washington Irving was born in New York City, USA in 1783. One of eleven children born to Scottish-English immigrant parents, Irving was a mischievous and adventurous child who cited Daniel Defoe's Robinson Crusoe as an early influence on his character.
In his youth, he travelled widely throughout Europe, indulging his love of the arts, before returning to the USA in 1806, where he was called to the bar. However, practicing law never really interested him. Irving turned increasingly to writing, founding a short-lived periodical and writing his first novel, Knickerbocker's History of New York (1809), which won him much acclaim at home and abroad.
Irving served in the War of 1812, before returning to England to visit his brother in 1815. He remained here for the next seventeen years, travelling widely on the continent once more. Between 1819 and 1820, Irving published his two best-known collections of short stories: The Crayon Papers and The Sketch Book of Geoffrey Crayon. Contained within these were the famous tales 'Rip van Winkle' and 'The Legend of Sleepy Hollow'. These stories were hugely popular in both America and Europe, and Irving soon found himself a literary celebrity, celebrated by authors such as Charles Dickens and Samuel Taylor Coleridge.
Irving continued to write throughout the next two decades, publishing a number of novels: Bracebridge Hall, or, The Humorists, A Medley (1822), Tales of a Traveller (1824) (considered by Irving to be his best work), The Life and Voyages of Christopher Columbus (1828), Chronicle of the Conquest of Granada (1829), and Tales of the Alhambra (1832).
In 1832 he returned to the USA, purchasing the rural Dutch cottage now known as 'Sunnyside'. Irving penned a number of further works, including biographies of Oliver Goldsmith and George Washington. He died in 1856, aged 76.
Books of Washington Irving