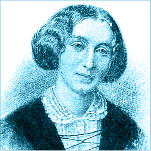 22 November 1819 – 22 December 1880
Mary Ann Evans was born in Nuneaton, England in 1819. A highly intelligent child, she was a voracious reader, and started at a young age to question the orthodoxy of the Anglican Church in which she was raised. When she was 21, Evans moved to Coventry, and in 1846 published her first major work – an English translation of the German author Ludwig Feuerbach's The Essence of Christianity. Her father became increasingly inpatient with Evans' questioning of the Christian faith, and to avoid being thrown out she attended church and kept house for him. However, a matter of weeks after his death, at the age of 30, she moved to London, with the intention of becoming a full-time writer.
In 1851, Evans became assistant editor of the campaigning, left-wing journal The Westminster Review, contributing many of her own essays. At this time, a female author heading a literary enterprise was virtually unheard of; to many, the mere sight of an unmarried young woman mixing with the predominantly male society of London was scandalous. Additionally, she conducted what was effectively an open affair with the philosopher and critic, George Henry Lewes. In the mid 1850s, Evans resolved to become a novelist, and adopted the pseudonym for which she would become best-known: George Eliot.
In 1858 (when Evans was 39) Amos Barton, the first of the Scenes of Clerical Life, was published in Blackwood's Magazine. Her first complete novel, Adam Bede was published a year later. Both of these were instant successes, and afforded Evans some degree of fame. After the popularity of Adam Bede, she continued to write for the next fifteen years. She produced six more novels, including her magnum opus, Middlemarch (1875), as well as a good body of poetry and a somewhat out-of-character novella The Lifted Veil (now seen as a significant milestone in the Victorian tradition of horror fiction).
Evans died in 1880, aged 61. She was not buried in Westminster Abbey because of her denial of the Christian faith; instead, she was interred in Highgate Cemetery, London, in the area reserved for religious dissenters or agnostics. Some years after her death, American author Henry James credited her with producing "deep, masterly pictures of the multifold life of man."