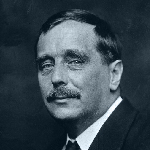 21 September 1866 – 13 August 1946
Herbert George Wells was born in Bromley, England in 1866. He apprenticed as a draper before becoming a pupil-teacher at Midhurst Grammar School in West Sussex. Some years later, Wells won a scholarship to the School of Science in London, where he developed a strong interest in biology and evolution, founding and editing the Science Schools Journal. However, he left before graduating to return to teaching, and began to focus increasingly on writing.
His first major essay on science, The Rediscovery of the Unique, appeared in 1891. However, it was in 1895 that Wells seriously established himself as a writer, with the publication of the now iconic novel, The Time Machine.
Wells followed The Time Machine with the equally well-received War of the Worlds (1898), which proved highly popular in the USA, and was serialized in the magazine Cosmopolitan. Around the turn of the century, he also began to write extensively on politics, technology and the future, producing works The Discovery of the Future (1902) and Mankind in the Making (1903).
An active socialist, in 1904 Wells joined the Fabian Society, and his 1905 book A Modern Utopia presented a vision of a socialist society founded on reason and compassion. Wells also penned a range of successful comic novels, such as Kipps (1905) and The History of Mr Polly (1910).
Wells' 1920 work, The Outline of History, was penned in response to the Russian Revolution, and declared that world would be improved by education, rather than revolution. It made Wells one of the most important political thinkers of the twenties and thirties, and he began to write for a number of journals and newspapers, even travelling to Russia to lecture Lenin and Trotsky on social reform. Appalled by the carnage of World War II, Wells began to work on a project dealing with the perils of nuclear war, but died before completing it.
He is now regarded as one of the greatest science-fiction writers of all time, and an important political thinker.