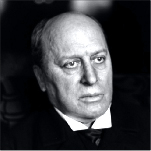 15 April 1843 –28 February 1916
Henry James was born in New York City in 1843. One of thirteen children, James had an unorthodox early education, switching between schools, private tutors and private reading.
In 1855, the James family embarked on a three year-long trip to Geneva, London, and Paris; an experience that greatly influenced his decision, some years later, to emigrate to Europe. Having returned to America, and having met prominent authors and thinkers such as Ralph Waldo Emerson and Henry David Thoreau, James turned seriously to writing.
James published his first story, A Tragedy of Error, in the Continental Monthly in 1864, when he was twenty years old. In 1876, he emigrated to London, where he remained for the vast majority of the rest of his life, becoming a British citizen in 1915. From this point on, he was a hugely prolific author, eventually producing twenty novels and more than a hundred short stories and novellas, as well as literary criticism, plays and travelogues. Amongst James's most famous works are The Europeans (1878), Daisy Miller (1878), Washington Square (1880), The Bostonians (1886), and one of the most famous ghost stories of all time, The Turn of the Screw (1898). James' personal favourite, of all his works, was the 1903 novel The Ambassadors. He is regarded by modern-day critics as one of the key figures of 19th-century literary realism, and one of the greatest American authors of all-time.
James' autobiography appeared in three volumes between 1914 and 1917. He died following a stroke in February of 1916, aged 72.