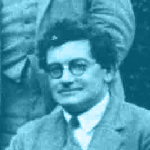 22 January 1886 - 11 August 1937
John William Navin Sullivan was a popular writer on science and literature and author of a celebrated study on Beethoven.
He wrote one of the earliest accounts of Einstein's General Theory of Relativity and circulated amongst the literary elite of London, including Aldous Huxley, Wyndham Lewis and T.S. Eliot.
Sullivan's early days are somewhat murky however. He was known to frequently lie about his upbringing, telling Aldous Huxley that he was born in Ireland and attended Maynooth with James Joyce. In fact, he was born on 22 January 1886 in the East End of London, England, and worked at a Telegraph company from 1900 onwards. The directors of the firm recognised his outstanding mathematical capabilities, and financed Sullivan's study at the Northern Polytechnic Institute.
From 1908 to 1910, Sullivan studied and researched at University College London, but left without a degree and moved to America, where he became a journalist. Sullivan's peripatetic life continued, and in 1913 he returned to Britain, still employed as a journalist, before working for the ambulance service in Serbia during the First World War. After the war, Sullivan wrote for The New Witness and The Athenaeum.
He married his first wife, Sylvia Mannooch in 1917 and they had one daughter, Navina, born in November 1921. It was at The Athenaeum, one of the best known and important literary reviews of the 1920s that Sullivan was introduced to the London literary world. He continued contributing literary and scientific articles to The Athenaeum well into the 1920s, but also wrote for the Times Literary Supplement, The Adelphi and John O'London's Weekly. During this time, Sullivan wrote his explanation of Einstein's theory of relativity, as well as numerous articles noting the new spirit of creativity in the sciences and the possibility of their reconciliation with the arts. These articles were collated in Aspects of Science in 1923.
Sullivan went on to pen the well-received study, Beethoven: His Spiritual Development (1927) and contributed to An Outline of Modern Knowledge (1931).
Sullivan separated from his first wife in 1921, and married Vere Bartrick Baker in 1928, with whom he had a son, Navin. In the early 1930s, Sullivan was increasingly troubled by poor health however, and was diagnosed in 1934 as suffering from disseminated sclerosis, a form of creeping paralysis. He died on 11 August, 1937 in Chobham, Surrey.
Books of J. W. N Sullivan