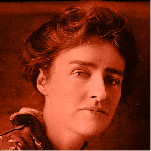 July 24 1876 – June 11 1916
Alice Jane Chandler Webster, perhaps better known under her pseudonym Jean Webster, was born on 24 July 1876, at Fredonia, New York, USA. She was the eldest child of Annie Moffet Webster and Charles Luther Webster, and spent her early childhood in a strongly matriarchal and activist setting. Her great-grandmother, grandmother and mother all lived under the same roof; her great-grandmother working on temperance issues, and her grandmother on racial equality and women's suffrage. Webster herself remained a lifelong supporter of women's suffrage and children's institutional reform. Alice's mother was niece to Mark Twain, and her father was Twain's business manager and subsequently publisher of many of his books. Unfortunately, the company ran into difficulties, after which her father had a nervous breakdown and leave of absence. He subsequently committed suicide in 1891 from a drug overdose.
Alice attended the Fredonia Normal School and graduated in 1894 in china painting, thereafter attending the Lady Jane Grey School in Binghamton from 1894-96. It was this latter establishment which provided the inspiration for Webster's later novel, Just Patty (published 1911). In 1897, Webster entered Vassar College. Majoring in English and economics, she also took courses in welfare and penal reform, and from this point on became heavily involved in improving the living conditions in institutions for delinquent and destitute children. After her graduation in 1901, Webster began writing When Patty Went to College, in which she described contemporary women's college life. It was published in 1903, to good reviews,  which spurred her on to complete her second novel The Wheat Princess, published in 1905. In the following years, Webster embarked on an eight month world tour to Burma, China, Egypt, Hong Kong, India, Indonesia, Japan and Sri Lanka with her friends Ethelyn McKinney, Lena Weinstein and two others, as well as writing Jerry Junior in 1907 and The Four Pools Mystery in 1908.
Webster's most famous novel, Daddy-Long-Legs, was written in less exotic settings however; whilst the author was staying at an old farmhouse in Tyringham, Massachusetts. It tells the story of an orphaned girl, 'Judy' whose attendance at a women's college is sponsored by an anonymous benefactor. The novel takes the form of letters written by the young lady to her sponsor, and met popular and critical acclaim on its release in 1912. Webster later dramatized the work, and spent a substantial amount of time on tour with the play, which starred a young Ruth Chatterton as 'Judy'.
In her personal life, Webster was greatly delighted, when, at the age of thirty nine, she was able to marry her long-held love, Glenn Ford McKinney. The marriage had hitherto been prevented due to the expectations of the groom's wealthy and successful father – who had forced the young man into an unhappy marriage with Annette Reynaud. Reynaud and McKinney were granted their divorce in 1915, which meant that he and Webster were able to marry in a quiet ceremony in Washington, Connecticut. They honeymooned in Canada, where they were visited by former president Theodore Roosevelt, who invited himself saying, 'I've always wanted to meet Jean Webster. We can put up a partition in the cabin!' On their return to New York, Webster published Dear Enemy (1915), a sequel to Daddy-Long-Legs, which also proved to be a bestseller.
Later that year, Webster was elated to discover she was pregnant, but was warned the pregnancy might be dangerous due to a history of difficult births in the family. Her friends reported that they had never seen her happier; she suffered severely from morning sickness, but was better by February 1916. She entered the Sloan Hospital for Women, New York on 10 June 1916, and gave birth to a healthy daughter. Unfortunately, despite a positive outlook at first, Webster became ill and died of childbirth fever the following day. Her daughter was named Jean in her honour.