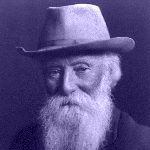 April 3 1837 – March 29 1921
John Burroughs was born on April 3 1837 in Catskill Mountains near Roxbury in Delaware County, New York, United States. As a child he played on the slopes of the Catskill Mountains and worked on the family farm. He was enthralled by the birds and other wildlife around him. Burroughs developed an interest in learning, but his father believed the rudimentary education given at the local school was enough, and refused to pay for the higher education that Burroughs desired. At seventeen he left home to earn the money needed for college by teaching at a school in Olive, New York. Between 1854 and 1856 he worked as a teacher whilst completing his studies. He continued to teach until 1863.
In 1857, Burroughs left his teaching position in Illinois to find employment near his hometown and that same year, he married the pious Ursula North (1836-1917). After five years of marital discord, Ursula concluded that her husband's sexual demands were immoral. She suggested a short separation to encourage him to value chastity. Their separation lasted until 1864, during which, Burroughs valued other female company. He remained unfaithful after their reunion. In 1901, he met Clara Barrus (1864-1931), a physician at a psychiatric hospital. She was half his age, but was the love of his life. She moved into his house after Ursula died in 1917.
Burroughs' first published essay was Expression (1860). In 1864, Burroughs began work as a clerk at the Treasury and eventually became a federal banker. He worked there until the 1880s, but continued writing and acquired an interest in the poetry of Walt Whitman (1819-1892). The pair met in 1863 and became friends. Whitman encouraged Burroughs to develop his nature writings, as well as his essays on philosophy and literature. In 1867, Burroughs published Notes on Walt Whitman as Poet and Person which was the first biography and critical work on Whitman, and was anonymously edited by Whitman before it was published. In 1871, Burroughs' first collection of nature essays, Wake Robin, was published.
Burroughs left Washington for New York in 1873 where he bought a fruit farm in West Park, New York and built his Riverby estate. In 1895, he bought additional land near Riverby and built an Adirondack style cabin named Slabsides. There, Burroughs wrote and entertained visitors. His famous friends included Theodore Roosevelt (1858-1919), Henry Ford (1863-1947) - who gave him an automobile, and Thomas Edison (1847-1931). In 1899, Burroughs accompanied E. H Harriman (1848-1909) on his expedition to Alaska and also traveled to the Grand Canyon and Yosemite with John Muir (1838-1914).
In 1903, after publishing an article, Real and Sham Nature History, Burroughs began a publicised debate known as the nature fakers controversy where he condemned certain writers for their absurd representation of wildlife. He also criticised the naturalistic animal stories genre. This disagreement lasted for four years and included many environmental and political figures.
Burroughs was best known for his writings on wildlife and rural life and his writing achievements were recognised by his election as a member of the American Academy of Arts and Letters. Some of his essays recalled his trips to the Catskills, for example, The Heart of the Southern Catskills, depicts the ascent of Slide Mountain. Other Catskills essays commented on fishing, hiking or rafting. He was an enthusiastic fly fisherman and contributed some notable fishing essays to angling literature, including Speckled Trout (1870). The Complete Writings of John Burroughs runs to twenty three volumes. Wake Robin was the first and the following volumes were published regularly with the final two, Under the Maples (1921) and The Last Harvest (1922), being published posthumously by Clara Barrus. Burroughs also published a biography of John James Audubon (1902), Camping and Tramping with Roosevelt (1906), and Bird and Bough (1906).
Shortly before his death, Burroughs suffered from lapses in memory and a decline in heart function. In February 1921, he had an operation to remove an abscess from his chest, after which his health worsened. He died on March 29 1921 on a train near Kingsville, Ohio. He was buried in Roxbury, New York on what would have been his eighty fourth birthday, at the foot of a rock he had termed Boyhood Rock.