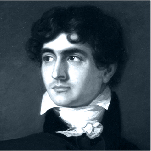 7 September 1795 – 24 August 1821
John William Polidori was a physician and author. He was born in London, England in 1795. In 1810, he enrolled at the University of Edinburgh, where he wrote a thesis on sleepwalking and graduated as a doctor of medicine. In 1816, Polidori entered Lord Byron's service as his personal physician, accompanying him through Europe and keeping a diary of their travels.
While at Byron's villa beside Lake Geneva, in Switzerland, they were joined by Percy Bysshe Shelley and Mary Shelley. Storms and tumultuous weather confined them to the indoors, where they and Byron's assorted other guests took to reading to each other from a book of ghost stories. One evening, Byron challenged all his guests to write one themselves. The guests obliged, and Polidori wrote The Vampyre.
After parting ways with Byron, he travelled through Italy before returning to England, and in April of 1819, his story The Vampyre was published in New Monthly Magazine. The story is now seen as a progenitor of the romantic vampire genre of fantasy fiction, and the first modern vampire story ever published in English.
Suffering from depression and gambling debts, Polidori died two years after its appearance, possibly via suicide, aged just 25.
Books of John William Polidori