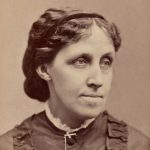 29 March 1832 - 6 March 1888
Louisa May Alcott was an American novelist, best known for the classic Little Women (1868) and its sequels Little Men and Jo's Boys. Alcott was born on 29th November 1832 in Germantown, Pennsylvania, USA, and was raised by her transcendentalist parents. The family, despite their connections with the American intellectual elite, suffered severe financial hardship and Alcott frequently helped to support the household. In 1840, after several financial setbacks, most notably following the experimental school set up by Louisa May's father, the family moved to a cottage along the Sudbury River in Massachusetts.
In 1843, the family moved again to the Utopian Fruitlands Community, an agrarian commune, dedicated to natural living. They finally settled in a house they named Hillside in 1845. As a result of this peripatetic childhood, Alcott's schooling was mainly received from her father, who was an incredibly strict disciplinarian, high thinker and advocate of plain living. This instilled a determination and strong work ethic in Alcott, who worked as a teacher, governess, seamstress and writer in her early years. As an adult, Alcott was a strong abolitionist and a feminist advocate, becoming the first woman to register to vote in Concord, in a school board election.
During the civil war, Alcott worked as a nurse in the Union Hospital at Georgetown, D.C. She collected all her letters, often dryly humorous, in a book entitled Hospital Sketches (1863); a work which brought Alcott critical acclaim. Following on from this success, Alcott wrote several novels under the pen name A. L. Barnard, most notably A Long Fatal Love Chase (1866) and A Modern Mephistopheles (1875). However, Little Women and its sequels were Alcott's major successes; the first book deals with the childhood of Meg, Jo, Beth and Amy; characters strongly based on Alcott's childhood accompanied by her own three sisters. The sequel, Good Wives (1869) deals with their progression into adulthood, while Little Men (1871) details Jo's life at the school she founded alongside her husband. Jo's Boys (1886) completes the 'Family Saga'. The character of Jo was loosely based on Alcott's own life, however, unlike the heroine, Alcott never married, commenting that 'I am more than half-persuaded that I am a man's soul put by some freak of nature into a woman's body ... because I have fallen in love with so many pretty girls and never once the least bit with any man.' Alcott was firmly part of the Gilded Age, along with authors such as Elizabeth Stoddard and Rebecca Harding Davis, she addressed women's issues in a modern and candid manner. Alcott continued to write until her death on 6th March 1888. The cause of death is uncertain. She suffered chronic health problems, including vertigo and typhoid, the latter of which was treated with mercury. However recent analysis of her illnesses has suggested an autoimmune disease such as Lupus. She is buried in Sleepy Hollow Cemetery, Concord, Massachusetts, on a hillside known as Author's Ridge.
Books of Louisa May Alcott