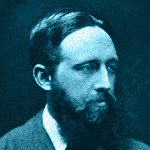 6 November 1848 – 14 August 1887
John Richard Jefferies was born on 6 November, 1818, in the small town of Coate, Wiltshire, England. He is best known as a nature writer, depicting English rural life in a sympathetic and poetic manner.
The son of a struggling farmer and one of four children, he had great reverence for the natural world from an early age. By the age of nine, Jefferies went shooting and fishing with his father and with a taste for adventure he fashioned his own canoe to paddle out into the local reservoir. These escapades could go too far however; at the age of sixteen, Jefferies and his cousin, James Cox, travelled to France, with the aim of walking to Russia. On discovering their French to be insufficient, they attempted to sail to America, but were forced to return as their tickets did not include the cost of food.
Having settled down as a young man, Jefferies worked for several local newspapers, contributing frequent articles on local history. It was around this time that he contracted tuberculosis though, the disease that would eventually kill him. Jefferies pursued a career as a writer with relish and had his first novel The Scarlet Shawl, published in 1874. The same year he married Jessie Baden, the daughter of a local farmer, with whom he had two children. With his new family, Jefferies moved to the outskirts of London and established himself firmly as a great English nature writer.
His first success was The Gamekeeper at Home (1878), as well as a series of distinguished articles for the Pall Mall Gazette. During this time in London Jefferies honed his literary skills, producing his most famous works; The Bevis Books (1881-2) which depicted a small boy's interaction with a host of anthropomorphic characters, and his adventures in the countryside.  When Jefferies was forced to move to Brighton, convalescing from a spell of illness caused by the undiagnosed tuberculosis, he wrote the extraordinary autobiography, The Story of My Heart (1883). An outpouring of thoughts and feelings, he described the work as 'absolutely and unflinchingly true.'  Jefferies went on to publish After London (1885), a post-apocalyptic fictional account of an abandoned England, reverted back to nature with a few survivors leading a quasi-medieval existence.
In his final years, due to declining health, Jefferies was unable to write any significant publications and consequently struggled with poverty. He was helped by the Royal Literary Fund, which bequeathed a grant of one hundred pounds, enabling the author to move to Goring, Sussex - a small town by the sea. Jefferies died there, of tuberculosis and fatigue, on 14 August 1887. He is buried in Broadwater and Worthing Cemetery.
Books of Richard Jefferies