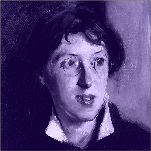 14 October 1856 – 13 February 1935
Violet Paget – who wrote under the pseudonym 'Vernon Lee' – was born at Château St Leonard, Boulogne, France in 1856.
She spent most of her life in Continental Europe, although she published most of her work in Britain, and made many trips to London. Lee's literary output was hugely varied; covering nearly forty volumes, it ranged from music criticism and travelogues to novels and academic essays.
Her first major work was Studies of the Eighteenth Century in Italy (1880), and at her peak she was considered a major authority on the Italian Renaissance. She also contributed much to the philosophical study of aesthetics. However, she is probably best-remembered for her supernatural short fiction, most notably her 1890 collection Hauntings.
Lee died in 1935.