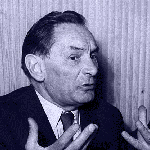 16 February 1893 – 30 June 1953
Vsevolod Illarionovich Pudovkin was a Russian and Soviet film director, actor and screenwriter, born on 16 February 1893 in Penza, Russian Empire. He developed highly influential theories regarding montage in cinema, and concentrated on themes of individual bravery and resilience; a highly pertinent theme in a period of such historical turmoil.
Pudovkin studied engineering at Moscow University and served in the Russian army during World War One. He escaped the war largely unscathed but was captured by the Germans for a short time.
Subsequent to 1918, Pudovkin embarked on his cinematic career, taking on small roles as a screenwriter and art director, as well as assistant director to Lev Kuleshov. However, it was not until 1926 that he produced his masterpiece of the silent movie genre; Mother. This film evidences the personal struggle of a woman in the midst of a workers strike, attempting to reconcile her son's ideology and her husband's death. It was during the course of producing this film that Pudovkin developed his montage theories, stating that the role of montage was to bring together a comprehensive story as opposed to presenting emotionally jarring images (the latter approach was favoured by Pudovkin's contemporary Eisenstein). Mother was followed by two subsequent silent films, The End of St. Petersburg and Storm Over Asia (both of 1927) – yet with the advent of sound film, Pudovkin explored the potential of sound as a complement to the moving image in A Simple Case (1932). This topic had been discussed between Pudovkin and his fellow film makers Sergei Eisenstein and Grigori Aleksandrov, who collaboratively produced the Manifest of Sound Document. However, few of Pudovkin's later works matched his earlier excellence and successes.
He made a series of historical pieces in the late 1930s and early 1940s, but none of these won critical acclaim. By the 1940s with the Iron Curtain falling, the political atmosphere had changed substantially in Russia.
Post-World War Two, under heavy Party criticism, Pudovkin returned to his earlier revolutionary themes. As a result of this, in 1951, Pudovkin was awarded the Stalin Prize and followed up his success with The Return of Vasili Bortnikov (1953). Despite inevitable state intervention, the film is closer to his earlier works, and depicts the estrangement and eventual reconciliation of Vasili and his wife, after his departure to fight the Germans. The same year this film was released, on 30 June, Pudovkin died in Riga, Soviet Union.
Books of Vsevolod Illarionovich Pudovkin